Student Success: Iris Machuca UH School of Nursing
Iris Machuca grew up surrounded by the effects of food insecurity. Nutrition, she said, impacted her life in a profound way.
"There was a period in my life were I made yearly visits to the hospital due to my mother's health. I have always blamed my family's poor food choices for our misfortune with health," she said.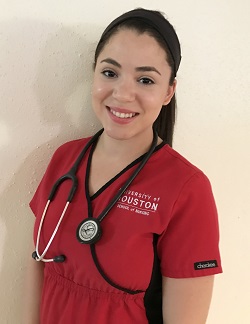 Food options sometimes were limited to processed or canned food, Machuca said. It was these experiences that prompted her to pursue a degree in human nutrition and food from the University of Houston.
"A healthy diet is the key to wellbeing. I wanted to expand my knowledge in this subject and one day help families fight chronic conditions that can be managed or prevented with a healthy diet," she said.
That goal led her to her next step: nursing. Machuca now is pursuing studies in the Second Degree BSN program at the UH School of Nursing. It's an intense 12-month program specifically for students who have degrees in other areas. The objective is to produce graduates for professional nursing practice who can draw on knowledge of their first degree to critically analyze human responses to actual and potential health problems, and provide appropriate nursing interventions. Machuca comes to the program armed with experience in scholarly research as part of a team that investigated childhood obesity and nutrition.
"Our community-based study focused on understanding the health of low-income Hispanic mothers and their young children, many of whom were immigrants experiencing financial hardship and barriers to health care," said Daphne Hernandez, principal investigator and assistant professor of health and human performance. "Iris was a tremendous asset. She treated each participant with respect, ease and care, and provided great feedback after each data collection on how to improve the efficiency, while still maintaining research compliance."
As part of the research team, Machuca participated in community outreach events and health fairs, but also in the collection of anthropometric measurements and in analyzing research findings. The paper, "Low-Income Immigrant Hispanic Mothers' Concerns and Perceptions of Their Young Child's Weight," was published in the journal "Public Health Nursing." Machuca also developed a research poster for the Food & Nutrition Conference & Expo, the national annual conference of the Academy of Nutrition and Dietetics.
The experience, she said, taught her new skills and helped to guide her career path, which now includes nursing. She aims to become an emergency room nurse providing assessment and treatment to patients at their most vulnerable state.
"I am the first person in my family to pursue higher education and I want to thank Dr. Hernandez for giving me the opportunity to participate in her research study," she said. "A long term goal of mine is to give back to my community, and one day expand it outside the U.S. borders by developing health programs to provide primary, secondary and tertiary prevention care to individuals who do not have access to health care."
Read more