Student Success: Colby Kibbe, Digital Media Alum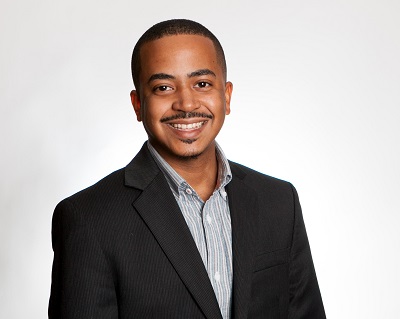 Colby Kibbe is a 2009 graduate of the UH digital media program. His studies led him to graduate school at the Rochester Institute of Technology in New York. Back in Houston, he's now the Technical Marketing Program Manager for Pageflex.
Tell us about your UH experience.
I attended the University of Houston from 2007 – 2009; graduating in December 2009.
The official title of my major was organizational leadership and supervision with a major emphasis in graphic communications technology. I had many fruitful experiences while at UH. Leading a graphic communications student organization helped put the leadership skills I was learning in class to use in a real setting, which in turn, allowed me to meet with individuals who would later recommend me for positions and eventually become my colleagues.
What is your day-to-day?
My role involves speaking with prospective clients during sales presentations. By having knowledge of print for a basis for communicating a message, I am able to speak fluently and with confidence to managers, directors and senior executives regarding their requirements for print (including integrations with workflow systems and file type requirements), platform development needs, and their desire to offer more robust, omni-channel communication services (e-mail, mobile, social) to their end users, ultimately, driving company growth.
How did you know you wanted to study digital media?
I transferred to the College of Technology as a computer engineering technology major, but was always curious about what the students were doing in the computer lab across the hallway. The computer lab contained a bunch of the Apple-iconic white iMacs of the late 2000s, which was a real draw for me.  Within a year, I transitioned to Dr. Jerry Waite's graphic communications technology/digital media program, and fell in love with it.
What attracted me to the industry itself was the multitude of avenues where the skills we learned in Graphic Communications Technology/Digital Media could be utilized.  With my interest in design, screen printing, and wanting to understand marketing and how to run a business, I knew that I could transition between all of these interests and gain skills in each that would become transferable to the next initiative.
What kinds of projects did you do and what skills did you learn that were/are critical to your continued success?
With Dr. Waite, I completed coursework related to printing, cutting, dot gain, photo-editing, as well as portfolio preparation and presentation.  In addition, I completed two research projects, both of which were presented during the UH Summer Undergraduate Research Fellowship fair.
Participating in these efforts built my understanding of how the perception of quality in presentation can impact the level of success one wants to achieve.
What professors do you remember and how did they influence you?
Since I was a transfer student into the graphic communications technology/digital media program, all my coursework was taken with Dr. Jerry Waite. His passion for the graphic communications industry was driven home every time he lectured. The level of engagement Dr. Waite put into his students and the work we were producing lit a fire to my desire to become great in this industry.  To this day, Dr. Waite is a major contributor to my career success, as I grow and transition to each new role with increasing responsibility.
What advice do you have for future digital media professionals?
Prepare yourself well. Become fluent in as many skills as you can, as soon as you can. In addition to understanding the software suites utilized for coursework and in the industry, it's necessary to gain business skills, such as accounting, understanding taxes, proposal preparation and marketing, as well as soft skills, such as verbal and written communication skills targeting specific audiences and understanding personality types. For an industry that is in constant transition, there will always be room for individuals who put forth major effort and bring creative ideas to the table that can capture an audience and drive company growth.
Set goals that are well above-and-beyond your own expectations, current age and stance in life. For example, if you want a $50,000 position with X company, change this goal to "I want a $150,000 position with X company." The sooner you raise your goals and expectations for yourself, the more time you will spend figuring out what hard and soft skills are needed and level of effort necessary to achieve these goals.