Digital Media Program Receives National Re-Accreditation
The University of Houston Digital Media program received national re-accreditation from the Accrediting Council for Collegiate Graphic Communications, Inc. (ACCGC). The national accreditation is for six years.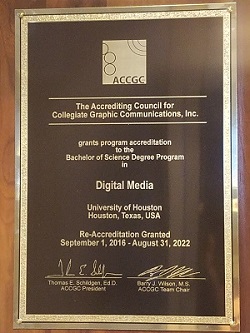 "This is a great statement about our program," said Jerry J. Waite, professor and program coordinator. "Being nationally re-accredited tells our students and their future employers this degree has added value because it comes from a program that has gone through the rigor of review and emerged among the very best in the country."
A formal presentation was made during the annual ACCGC meeting in Orlando, Florida.
The ACCGC is an independent body professionally supported by leaders in the collegiate educational area and by the management personnel in the graphic communications industry.
The digital media program is part of the Department of Information and Logistics Technology at the UH College of Technology and housed at the University of Houston Sugar Land. It is now among 13 associate and baccalaureate level graphic communications programs nationwide with this distinction.
The ACCGC reviews qualitative and quantitative evidence gathered through an institution's self-study and a campus visit. The program is evaluated in 14 areas:
Mission Statements and Learning Outcomes
Competency Alignment and Outcomes Assessment
Governance/Administration
Financial Support, Equipment and Facilities
Staff Support Services, Curriculum
Instruction and Evaluation
Internships/Practicums/Cooperative Study
Industry Advisory Committee(s)
Faculty
Faculty Evaluation
Student Records and Advising
Graduate Placement and Follow-up.
"The University, college, department and Digital Media degree program mission and curricular outcomes clearly meet the needs of the State of Texas and the graphic communications industry. The students are excited about the curriculum being offered and the opportunities to explore the numerous job possibilities," the ACCGC said it in its report.
The Bachelor of Science in Digital Media explores print, computer graphics, web design and e-media, e-commerce, photographer, motion media and leadership. Students also benefits from many networking and internship opportunities
The 12 other accredited programs are Arizona State University, California Polytechnic State University, California University of Pennsylvania, Ferris State University, Harper College, Illinois State University, New York City College of Technology, Rock Valley College, University of Northern Iowa, University of Wisconsin-Stout, Western Illinois University, and Western Michigan University.
Read more