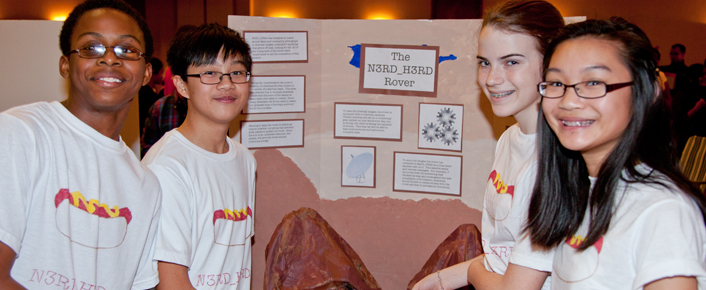 Mission
The mission of the University of Houston STEM Center is to improve local, state and national teaching and learning for students in Science, Technology, Engineering, and Mathematics (STEM). The STEM Center brings together the University of Houston's own STEM programs together with efforts in the community through public, corporate and philanthropic funds for the intent to contribute more profoundly into the nation's STEM education and workforce. The center serves as a single Point of Contact where teachers and researchers are able to follow the latest in STEM research, programs, proposals and ongoing projects. To meet global standards, the STEM Center addresses the talent pipeline by working proactively with local K-12 teachers, administrators and parents.
The STEM Center will engage K-12 students, teachers, undergraduates and faculty in the UH community alongside various science organizations, such as the Houston Museum of Natural Science, Space Center Houston and the Houston Zoo. 
Background
The University of Houston STEM Center was founded in January 2013 under the direction of NASA Astronaut Dr. Bonnie Dunbar, Ph.D., NAE. Guided by the principles of Rising Above the Gathering Storm: Energizing and Employing America for a Brighter Economic Future and Rising Above the Gathering Storm, Revisited—Rapidly Approaching Category 5, the STEM center will increase America's talent pool by vastly improving K-12 science and mathematics education. The University of Houston College of Natural Sciences and College of Education collaborated together to create a center that will ensure the United States continues to stand as the premier location to study and perform research. In addition, the University of Houston Stem Center will develop, recruit, and retain the best and brightest students, scientists, and engineers from within the United States and throughout the world.
The STEM Center
The University of Houston is in a unique position to have a much larger and more integrated impact on STEM education. The State of Texas possess an enormous STEM workforce demand that remains open and unfulfilled. Houston is located in a STEM rich employment environment: NASA, multiple STEM industries, and world class research institutions. The University of Houston is a Carnegie-designated Tier One Public Research University which will support our goals to increase STEM enrollment. Furthermore, the STEM Center is located in the middle of the largest school district in the state of Texas (over 200,000 students) and the seventh largest in the nation. The STEM Center will host and work on various events with K-12 schools to inspire and recruit students towards STEM studies and higher education. Diversity in Houston allows the STEM Center to be a source of a diverse workforce for Texas and the nation.
Collaboration
The STEM Center will work to develop collaborations with Informal Science Education programs at the Houston Museum of Natural Science, Space Center Houston, and the NASA JSC Texas Aerospace Scholars Program, and STEM programs with Texas Medical Center institutions.