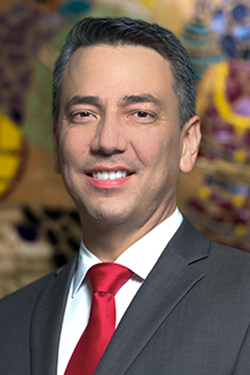 Dear Prospective Student:
Welcome to the Graduate College of Social Work at the University of Houston. We prepare students to address the complex social problems of our time in order to achieve social, racial, economic and political justice for all. If you believe that justice can be more than an ideal we aspire to, I hope you will consider the Graduate College of Social Work as your new home.
At the Graduate College of Social Work, affectionately called the GCSW, you will find endless opportunities to engage with a diverse group of students and faculty that will inspire you to learn and grow. We are located in the heart of Houston, the fourth largest city in America and the most ethnically diverse metropolitan area in the country. Our typical incoming class speaks more than 15 languages, coming from 15 different countries and from states across the U.S. Our faculty includes an exceptional group of scholars who are actively engaged in groundbreaking research to address complex challenges in our community and around the world. Their practice experience and research expertise reinforce our long-standing commitment to peace and social justice. In fact, we are the only college of social work in the world to have a Nobel Peace Prize Laureate, Jody Williams, as part of our faculty. We are further distinguished as the academic home of award-winning social work researcher and #1 New York Times best selling author Brené Brown, who is both a graduate of our program and faculty member.
Whether you are pursuing an MSW or Ph.D., our College offers a unique and innovative curriculum that reflects current and future practice needs. Our environment embraces intellectual curiosity and cherishes debate while we work to create a just society for all people. The GCSW offers a range of academic courses, diverse field education sites, numerous community engagement opportunities, and cutting edge research centers. Our MSW concentrations in Clinical Practice and Macro Practice and our specializations in Political Social Work, Social Work with Latinos, and Health and Behavioral Health are nationally recognized for their excellence and preparation for advanced practice. We also offer a unique opportunity to shape an Individualized Specialization to explore a substantive area of your choice to meet your professional goals.
At the Graduate College of Social Work, we are committed to achieving social, racial, economic and political justice for all. Recent events in our country and across the globe have made this seem like an increasingly elusive goal. Now more than ever, social workers are needed to challenge this notion and work together to affect positive change. I hope you will join us in this effort until justice is no longer an aspiration, but a reality.
Alan Dettlaff, Ph.D., MSW
Dean and Maconda Brown O'Connor Endowed Dean's Chair