Recent Findings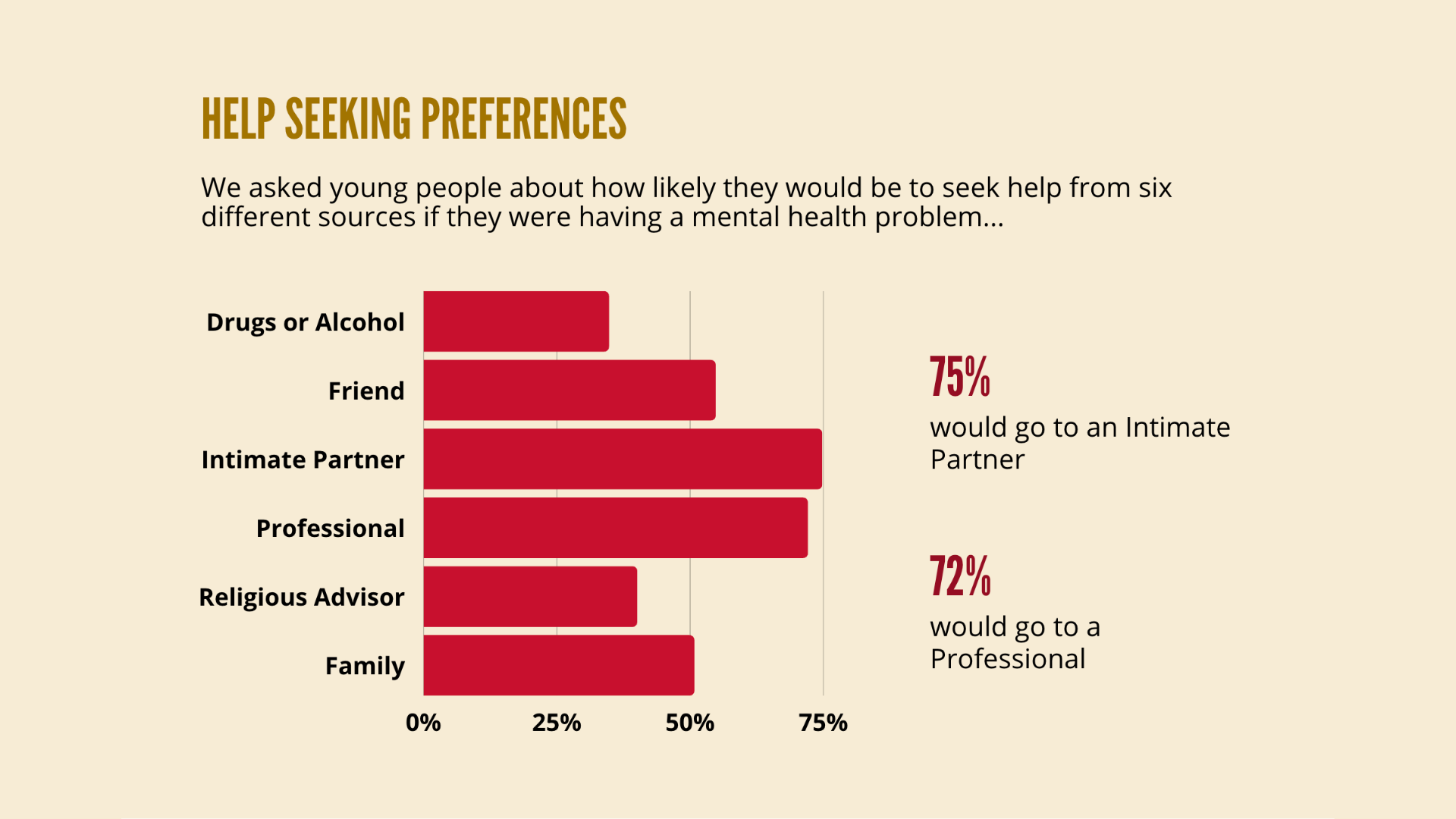 Mental Health & Social Networks Among Youth Exiting Foster Care 
Authors: Sarah Narendorf, Anil Arora, Caitlyn Mytelka  | 2022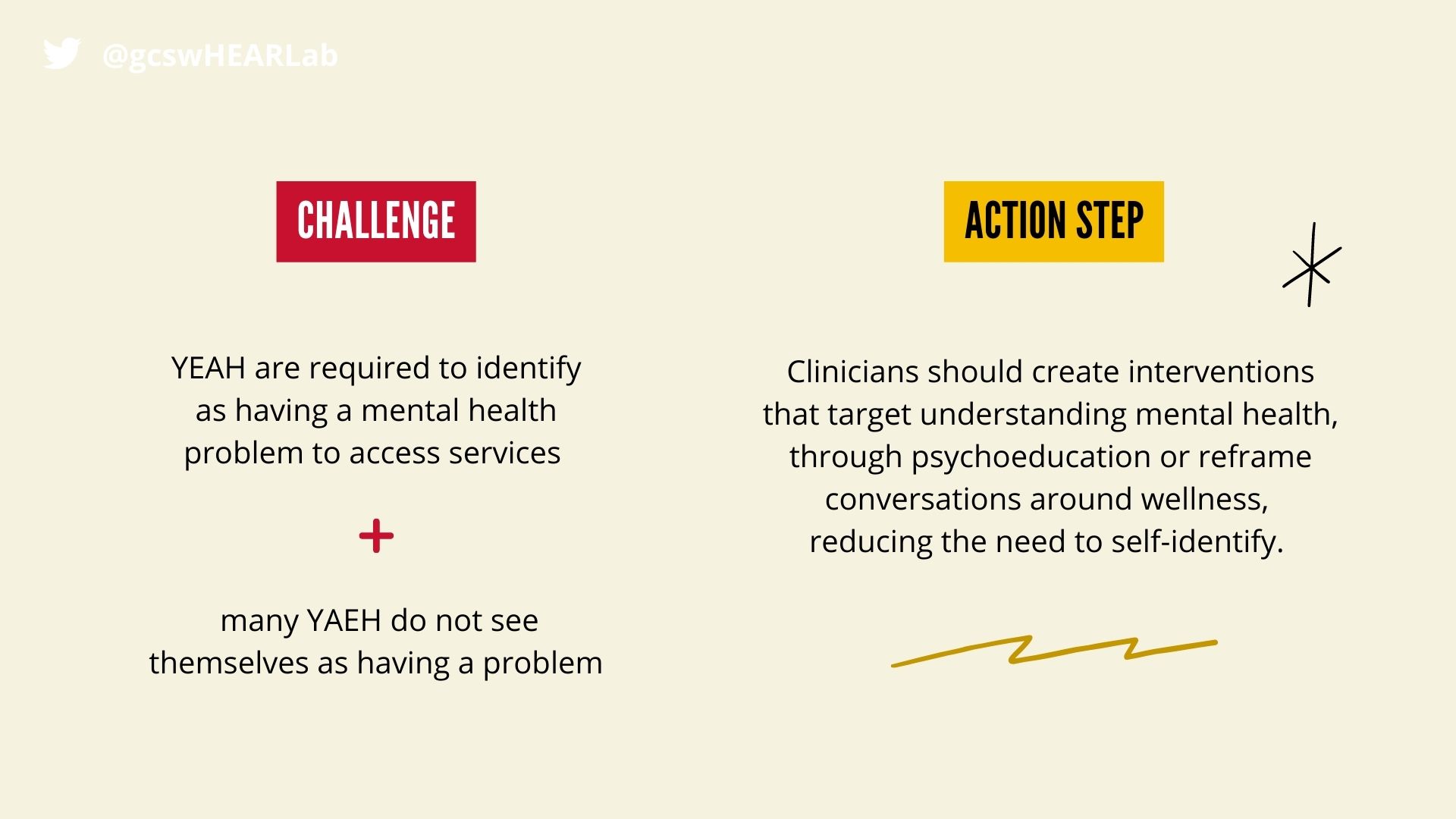 Self-Identification of Mental Health Problems Among Young Adults Experiencing Homelessness
Authors: Sarah Narendorf, Anil Arora, Diane Santa Maria, Kimberly Bender, Jama Shelton, Hsun-Ta Hsu, Kristin Ferguson, & Anamika Barman-Adhikari | 2023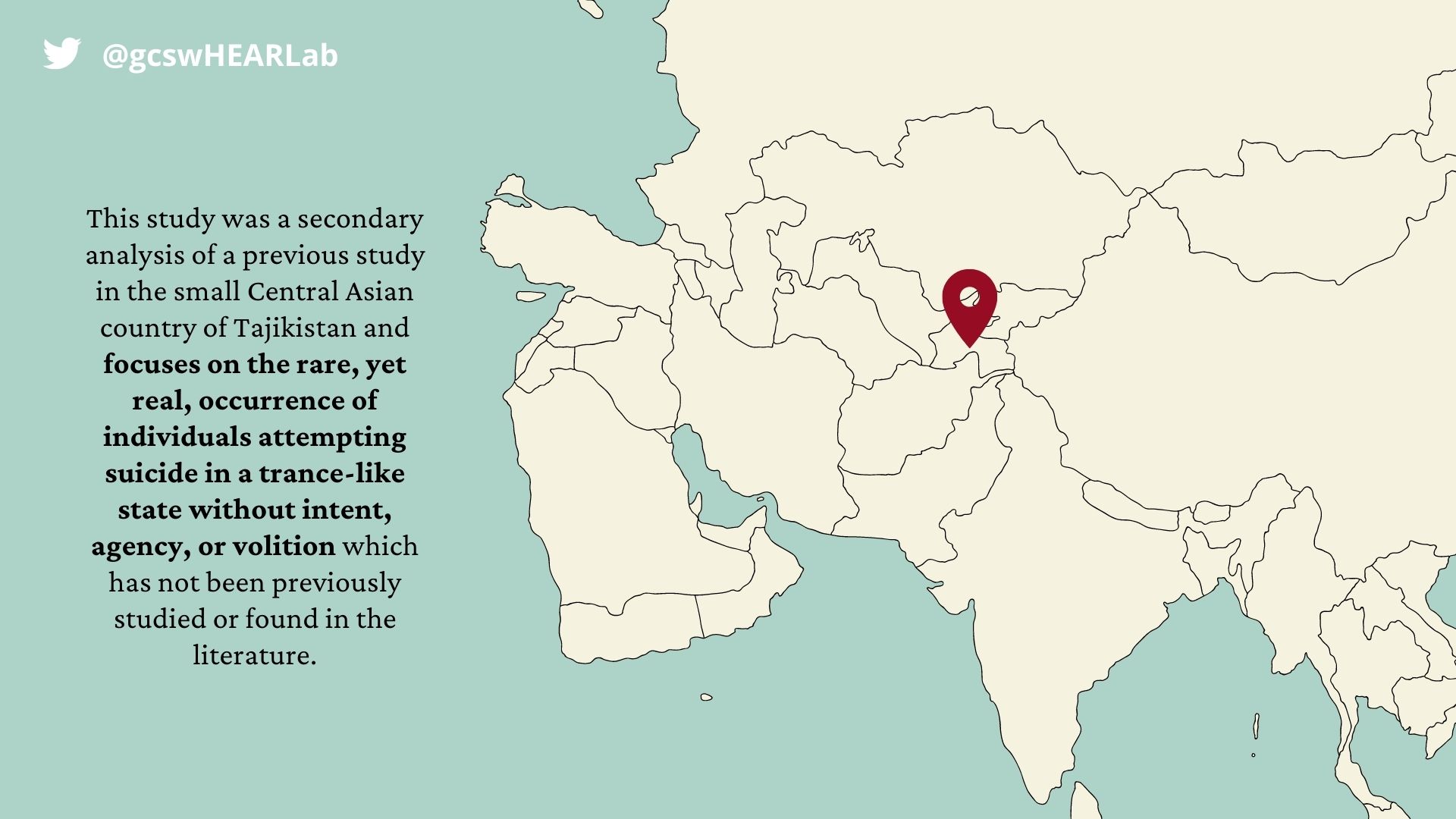 'I didn't do it!' Lived Experiences of Suicide Attempts made without Perceived Intent or Volition
Authors: Shahnaz Savani & Robin Gearing | 2022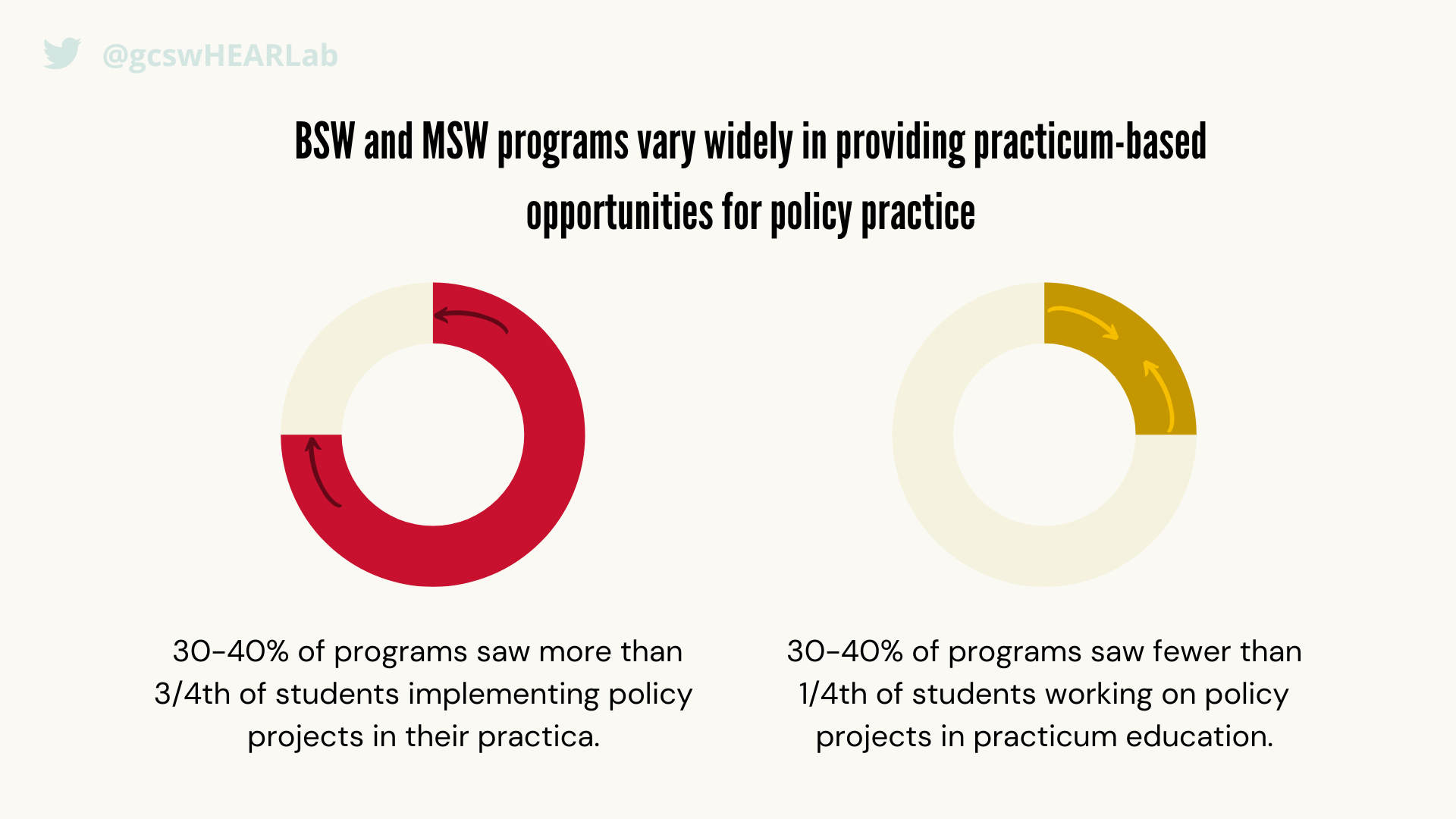 Policy Education in U.S. Social Work Programs: Results of a National Study
Authors: Suzanne Pritzker and Natalia Giraldo-Santiago | 2022
Striving toward Community-Engaged and Participatory Methods: Considerations for Researchers in Academic Settings

Authors: Sarah C. Narendorf, Samira Ali, Charles H. Lea III, and Suzanne Pritzker | 2022
Catalysts of Conscientization Among the Professorate: A Descriptive Phenomenological Study
Authors: Kyee Altranice Young and Brandon Mitchell | 2022
Mental health help-seeking in China
Authors: Robin Edward Gearing, Kathryne B. Brewer, Patrick Leung, Monit Cheung, Wanzhen Chen, L. Christian Carr, Arlene Bjugstad, and Xuesong He | 2022
Professional Stakeholders' Perceptions of Child Marriage in Lebanon among Syrian Refugees
Authors: Negin Najjarnejad, Nicole Bromfield | 2022
Examining Public Stigma of Schizophrenia in China
Authors: Robin Edward Gearing, Wanzhen Chen, Kathryne B. Brewer, Patrick Leung, Monit Cheung, L. Christian Carr, Gregory R. Gomez, Keri Powell, and Xuedong He | 2022
Social support as a moderator of physical disability and mental health in older Vietnamese immigrants in the U.S.: Results from the Vietnamese Aging and Care Survey (VACS)
Authors: Christina E. Miyawaki; Minhui Liu; Van Ta Park; Mindy Thy Tran; Kyriakos S. Markides | 2022
An Exploratory Study on the Role of Burnout and Devaluation among Staff in Psychiatric Facilities
Authors: Lindamarie Olson, Robin Gearing, Berenice Perez Ramirez, Luis R. Torres | 2022
---
2021 Discoveries 
One in four Baby Boomers fills the informal caregiver role in the United States
Baby Boomers Who Provide Informal Care for People Living with Dementia in the Community
Authors: Christina E. Miyawaki, Erin D. Bouldin, Christopher A. Taylor, and Lisa C. McGuire  
Through COVID‐19 we learned it is critical to adopt effective teaching and learning strategies that include teaching with compassion and empathy
Trial by Fire: Innovative Approaches and Evaluation of Course Transition During COVID‐19 
Authors: Sujeeta E. Menon, Virginia (Ginger) Lucas, and Susan P. Robbins 
Nearly 75% of youth experiencing homelessness also report experiences of discrimination.
Experiences of Discrimination among Young Adults Experiencing Homelessness: Relationship to Mental Health Outcomes 
Authors: Sarah C. Narendorf, PhD, Ashley Palmer, PhD, Kenya Minott, PhD, and Realyst co-Lab partners 
We should promote being good company to each other - that will help caregiver-recipient dyad
Association between caregivers' characteristics and older care recipients' well-being among Vietnamese immigrant families in the United States 
Authors: Christina E. Miyawaki, Minhui Liu, Kyriakos S. Markides 
Open and constructive family communication contributes to effective individual and family coping with cancer in minoritized populations.
Family communication and coping among racial-ethnic minority cancer patients: A systematic review 
Authors: Yu-Ju Huang; Chiara Acquati; Monit Cheung 
A typology of power in implementation: Building on the exploration, preparation, implementation, sustainment (EPIS) framework to advance mental health and HIV health equity 
Authors: Megan C. Stanton, Samira B. Ali, and SUSTAIN Center Team 
The impact of Strong Families, Strong Communities on relationship functioning in low-income African American and Hispanic individuals: Findings from a federally funded randomized control trial. 
Authors: Sheara W. Jennings, Luis R. Torres-Hostos, Roderick A Rose, and Roberta M. Leal 
Patient activation and treatment decision-making in the context of cancer: examining the contribution of informal caregivers' involvement 
Authors: Chiara Acquati, Judith H. Hibbard, Ellen Miller-Sonet, Anao Zhang, and Elena Ionescu 
---
Past Research Discoveries
SMART Cougars prevents and reduces substance abuse and transmission of HIV/AIDS among Hispanic/Latino and African American college students ages 18-24 at the University of Houston, as well as the communities surrounding the university.  
YouthCount 2.0! is a community-generated project led by the University of Houston and funded by the Houston Community Foundation to count youth in unstable housing in Harris County.  
Lesbian, Gay and Bisexual (LGB) Youth in Child Welfare uses data from the second National Survey of Child and Adolescent Well-being (NSCAW II), the first nationally representative child welfare data set to include information on youth sexual orientation, to determine the  proportion of youth involved in the child welfare system who identify as Lesbian, Gay, Bisexual, (LGB), and to compare the outcomes of LGB system involved youth to outcomes of system involved non-LGB youth. 
3/40 Blueprint helped build the capacity of runaway and homeless youth providers to better understand and address the needs of LGBTQ youth and prevent these poor outcomes such as victimization, substance abuse and suicide through identifying promising practices, training methods, and tools to address the needs of LGBTQ homeless youths.