Ph.D. student Fatima Dagher was one of only 10 Best Abstract Award recipients among more than 900 projects submitted to the 2022 AAPS Pharm Sci meeting.

UHCOP Ph.D. alumnus Victor Lincha, far right, first author of the award-winning abstract, and Professor Diana S-L. Chow, faculty adviser/coauthor, stop by congratulate Dagher at the AAPS Pharm Sci meeting in Boston.

Dagher is shown at her e-presentation station at AAPS Pharm Sci meeting in Boston.
Large Dose of Hope in Tiny Package  
Ph.D. Student Wins AAPS Best Abstract Award for Presentation on Drug Delivery System for Pancreatic Cancer Treatment
Oct. 28 — A University of Houston College of Pharmacy Ph.D. student has received a national award for her presentation of the preliminary safety and efficacy study results on a nanoparticle drug delivery system containing a pancreatic cancer chemotherapy agent and a synthetic Vitamin D derivative that helps "clear the path" for the anticancer drug by modulating the stroma – or the connective cells and tissue surrounding the tumor – and the tumor microenvironment.
The UHCOP-based study seeking a new treatment regimen for pancreatic ductal adenocarcinoma (PDAC) is focused on two drugs – the chemotherapy agent paclitaxel (PTX) and the drug Calcipotriol (Cal), most commonly used as a treatment for plaque psoriasis – packaged within a nanopolymeric micelle drug delivery system. Micelles feature enables the co-delivery of multi-medications of distinct mechanisms of action, to reach the site of action simultaneously. The platform will minimize the chemotherapy agent's interaction and damage to healthy cells until reaching the tumor site and being released following activation by pH change or other stimuli.
Fatima Dagher, a student in the Pharmaceutics concentration of the Ph.D. in Pharmaceutical Sciences degree program, was recognized with a Best Abstract Award at the American Association of Pharmaceutical Scientists 2022 PharmSci 360 meeting Oct. 16-19 in Boston for her presentation that was ranked by reviewers among the top 1% of the more than 900 abstracts submitted to the meeting.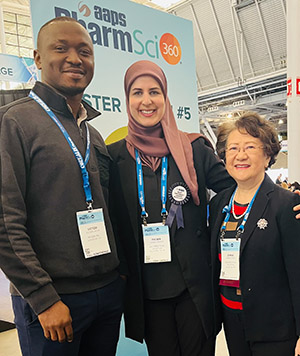 Dagher's work on the project was conducted in the lab of UHCOP's Diana S-L. Chow, Ph.D., FNAI, John J. & Paula Lovoi Endowed Professor of Drug Discovery and Development and director of the Institute for Drug Education and Research. Other members on the project include recent UHCOP graduate Victor Lincha, Ph.D., project manager of Clinical Pharmacology in Oncology of Pfizer, whose dissertation project laid the major foundation for Dagher's work and presentation; UHCOP Pharm.D. graduate Lillian Duong; along with University of Texas MD Anderson Cancer Center (MDACC) Department of Cancer Systems Imaging collaborators Jun Zhao, Ph.D., visiting assistant professor, Xiaoxia Wen, M.S., laboratory coordinator, and Chun Li, Ph.D., professor and director of John S. Dunn Foundation Chemistry Laboratory in Imaging Sciences.
The team utilized a mouse model of PDAC – which makes up 90% of pancreatic tumors – to assess the tumor response and change in stroma markers with their formulation. Reduction of stroma-related markers, better antitumor activity, and improvement in median survival of tumor-bearing mice were observed in the subjects treated with the study formulation, while subjects in the control or alternate treatment groups showed tumor progression or no noticeable shrinkage of the tumor, elevated or unimpaired biomarkers for stroma activity and cancer cell proliferation, and a lifespan less than one-half duration as in study formulation group.
The study team now expects to conduct additional preclinical studies to further assess and optimize the formulation regimen for future clinical consideration and review.