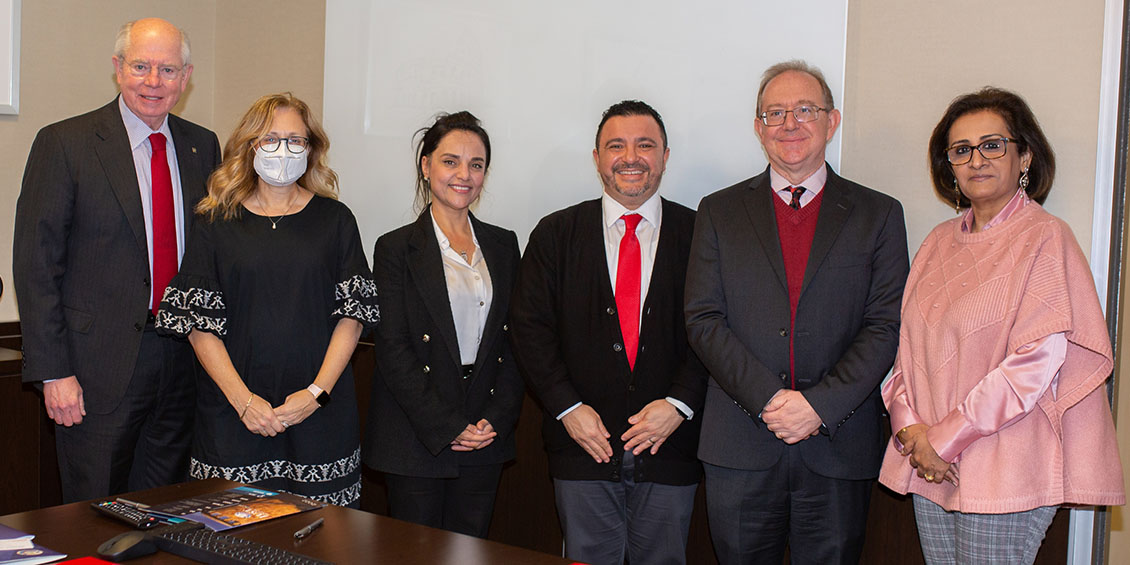 UHCOP, Jordan University of Science & Technology Establish Formal Ties for Academic, Research Collaboration
November 22 — Paving the way for broad collaboration on academic and research programs, the University of Houston College of Pharmacy (UHCOP) and the Jordan University of Science & Technology (JUST) have established formal ties with the signing of a memorandum of understanding (MOU).
The MOU lays the foundation for creating and cultivating relationships toward academic and research scholarship, grant funding, faculty development, student/faculty exchange and mentorship opportunities between the two institutions.
"We value internationalization; we believe exposing our students to international cooperation outside of their comfort zone is very important," said JUST Vice President & Professor of Pediatric Dentistry Suhad Al-Jundi, MDSci, FRCDC, who represented her institution at the signing ceremony on the UH campus.;
UH Interim Senior Vice President of Academic Affairs and Provost Robert McPherson, Ph.D., said global partnerships with enthusiastic institutions such as JUST provides abundant opportunities for mutual growth and enrichment in academic and research pursuits.
"At the University of Houston, we take great pride in supporting our Cougars as they embark on new and exciting academic journeys to other parts of the world," McPherson said. "This Memorandum of Understanding further demonstrates our commitment to providing global learning opportunities for students and establishing international ties with other institutions of higher education."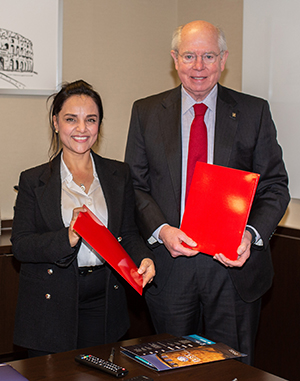 Established in Irbid, Jordan, in 1986, JUST offers over 140 undergraduate and graduate degree programs through 12 faculties (colleges/schools) – including Pharmacy, Medicine, Dentistry and Nursing – as well as several institutes. Current enrollment at the university is approximately 23,000, with women making up roughly 60% of the student body. Home to 5,000 international students of 60 nationalities, JUST is considered the most culturally diverse university in the nation.
JUST is ranked as the top research university in the country and amongst the top 50 universities in the Islamic World, according to a study carried out by the Statistical, Economic and Social Research and Training Center for Islamic Countries (SESRIC). Approximately 50% of JUST's faculty are graduates of U.S. higher education institutions.
"It's a wonderful first step and opens the door to work across the university and its faculty and students in various ways," said UH Founding Executive Director of the Institute for Global Engagement and former U.S. Ambassador Michael Pelletier, MIA.
The agreement is a serendipitous extension of recent research and outreach activities of UHCOP Associate Professor Samina Salim, Ph.D., who has been working on several projects focused on Syrian refugees who fled during the nation's past decade of unrest and strife.
Among Salim's projects is an investigation into the role of stress in oxido-inflammatory cascades in the regulation of critical neurobehavioral deficits. Specifically, Salim has hypothesized that stressful stimuli disrupt oxido-inflammatory balance in the brain, triggering synaptic dysfunction and impairment, which results in behavioral impairment.
With initial work on animal models of stress, Salim's research moved into human pre-clinical studies of stress and anxiety and their biomarkers among Syrian refugees who have settled in Houston. Through a collaboration with JUST faculty member and UH Biology and Biochemistry alumnus Omar F. Khabour, Ph.D., Salim recently expanded her data pool by connecting with Syrian refugees living in Jordan, which has absorbed the majority of refugees fleeing the war-torn nation.
At the same time, a request from JUST to host Salim for six weeks of scientific writing workshops to graduate students, teaching methods to faculty and a curriculum review of the pharmacology program was approved by the U.S. Fulbright Program's Specialist Roster.
"I was thrilled and took the offer, as this aligns very well with my passion," Salim said. "From the very early stages of my career, student empowerment has been my passion and I owe my research productivity to them, whose curiosity and dedication has prompted many intriguing scientific questions while bringing two NIH grants and many awards and recognition for me personally and professionally including the UH's early career mentoring award."
Following her Fulbright assignment this summer, Salim recently submitted a grant to the National Institutes of Health - with a second planned in the coming months - for further expansion of her research into the role and mechanisms of stress-induced neuro-behavioral impairment.