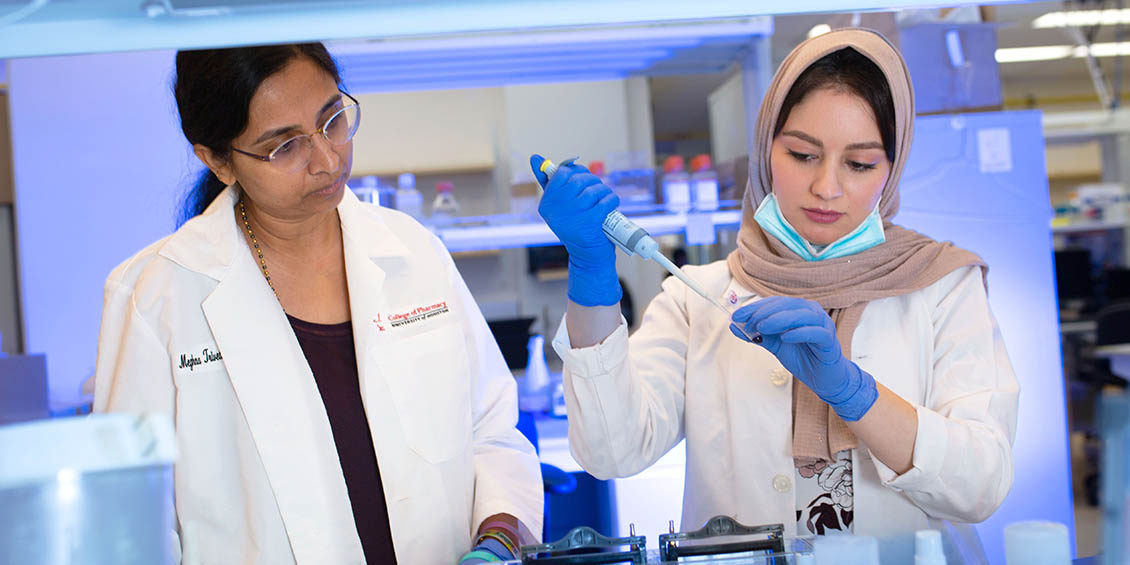 Personalizing Cancer Treatments 
Trivedi's CPRIT-funded Research Aims to Match Oncology Patients with 'Best-fit' Chemotherapies
March 16 — Perhaps one of the most challenging aspects of breast cancer treatment is that there is no "one-size-fits-all" solution. To add to the challenge, it's hard to know which therapy to try without knowing more detailed information about individual patients and their specific cancers.
Aided by a two-year, $250,000 grant from the Cancer Prevention and Research Institute of Texas (CPRIT), UH College of Pharmacy Associate Professor Meghna Trivedi, Pharm.D., Ph.D., BCOP, is working to identify which patients are best suited to respond to particular chemotherapies using various markers on their cancer cells.
Patients and health care providers are anxious to try new, often-costly therapies in the hopes of finding one that will provide the perfect solution, especially given that in many cases, patients not receiving effective treatment have a very low survival rate.
That's the case with treatments for hormone receptor-positive/human epidermal growth factor receptor 2 (HR+/HER2-) metastatic breast cancer, which means the cells have receptors for both estrogen and progesterone that promote growth as well as low or undetectable amounts of HER2 proteins that generally equates to slower rate of growth but unaffected by HER2 protein-targeted therapies.
The FDA currently offers three treatment agents (palbociclib, ribociclib, abemaciclib) to improve patient survival when combined with standard endocrine therapy. Unfortunately, though, there is less than a 50% success rate. Severe toxicity also has been reported and the cost of treatment can be more than $10,000 per month.
Trivedi's research seeks to find a simple biomarker assay that can predict if a patient with HR+/HER2- metastatic breast cancer will likely respond to the therapy.
"This research will help us determine who may respond to the commonly used treatments for metastatic breast cancer," Trivedi said. "We hope that our test can tell which patients are more likely to benefit from the treatment that is very expensive and has side effects – this way we can spare the others from toxicities and having to pay high prices."
Trivedi's project is being conducted in collaboration with colleagues at Baylor College of Medicine, where she holds an adjunct faculty appointment in the Department of Medicine and Baylor's Dan L. Duncan Comprehensive Cancer Center.
"We are working on optimizing the assay using cell lines and then will move to samples collected from patients being treated at the Lester and Sue Smith Breast Center at Baylor College of Medicine," she said. "We expect to develop a validated and clinically feasible assay. Once this is done, the future direction will be to test its application in predicting the response to treatment in a larger cohort of patients."
Another unique feature of this research is that it will require only blood draws in patients instead of tumor biopsy, Trivedi noted.
"To assess the cancer cells, we typically need to use biopsy, which involves invasive procedures for cancer patients," she said. "Our assay will use cancer cells found in the blood, avoiding the inconvenience and pain of undergoing tumor biopsy for patients."
Trivedi added that the project highlights the importance and need to expand personalized medicine.
"Many times, we develop novel therapies, but they don't work in everyone," Trivedi said. "If we don't know who benefits and who doesn't, we are using these expensive drugs in all patients even though many may not respond. This is a risky especially for cancer patients.
"We are working on the first step to develop and validate the assay and test its feasibility. If successful, our research will open new avenues for developing assays for predicting treatment outcomes in not only breast cancer but also other types of cancers."