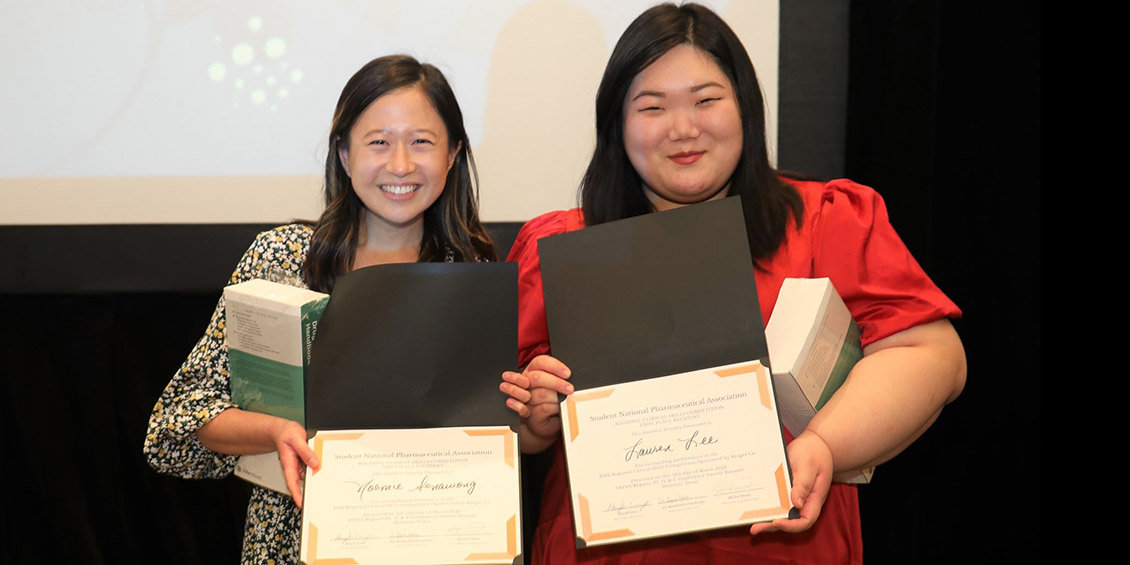 Clinical Command
UHCOP Students Claim Top 2 Spots in SNPhA Clinical Skills Competition, Service Grant for Homeless Smoking Cessation Outreach
March 31 — Less than a year after winning the national Student National Pharmaceutical Association Kroger Clinical Skills Competition, two UH College of Pharmacy Pharm.D. students proved they haven't lost their edge as they captured first place at the Region III, IV and V SNPhA Regional Conference March 11-12 in Houston.
Teammates Lauren Lee and Noemie Senawong triumphed in a field of 25 teams in the most recent regional competition, which also included fellow UHCOP students Leslye Echeverria and Susan Yoo, who took second place.
Lee and Senawong's latest win marks a big of redemption after finishing with an Honorable Mention at their previous regional outing in 2021. The team's national win in the P1/P2 CSC category in the 2021 SNPhA Virtual Conference July 29-Aug. 1 was a repeat for Lee, who also won the 2020 national conference competition with classmate Will Chollette.
The regional competition follows a similar format to the national competition, with students having to develop a clinical care plan for a mock patient based on a medical chart and other resources, then counsel a standardized patient on their medications in front of a panel of judges – all of which occurs in less than 20 minutes. However, competing teams at the regional level aren't grouped by class year like the national competition.
Lee and Senawong said their winning formula is a mix of quick thinking, familiarity with the competition format, and personal chemistry.
"We try to divide up the workload, so it involves a lot of communication and being on the same page," Lee said.
"I'm probably more organization-oriented and do well in writing up the presentation, while Lauren is better at looking up information and the relevant citations," Senawong said.
In addition to their winning CSC performance, Lee and Senawong – along with fellow student Josiah Willingham – were among the five finalists in the Prescription for Service Competition. They received a $2,500 grant to continue and expand their smoking cessation program called "Lung Defenders" to Houston's homeless community. Team members attend homeless shelters three to four times a month to provide resources for those interested in quitting smoking. Resources that are distributed include goodie bags that contain a resource guide for state tobacco control programs, pocket journal, pen, mint gum, stress ball, and a candle.
For the members of the audience that are interested in trying nicotine gum, they also assess the needs of each person using the 5A's method (Ask, Advise, Assess, Assist, and Arrange) and motivational interviewing to select the appropriate Nicotine patch and gum strengths that fit their individual needs, which are provided to the individuals. Following these counseling conversations, they provide key take-away points for individuals to gain the most benefit from the nicotine replacement therapy.
The team will present its project and results at the 2022 SNPhA National Conference this summer in Atlanta, Ga.
The recent regional conference also brought out several UHCOP alumni and a former faculty member as presenters, including alumni Amanda R. Grego, Pharm.D., M.S. ('17), 340B ACE, who presented the keynote address; Darian Allen, Pharm.D. ('20), national immediate past president of SNPhA who spoke on "Hidden Gems of Great Leadership," Cody Meuth, Pharm.D. ('11), M.S. ('11), who presented "Pharmacy During the Pandemic," and Thomas Roduta, Pharm.D., M.S. ('18), who presented "Crucial Conversations"; and former faculty member Damien Fisher, who presented "Resilience and Grit." UHCOP alumnus Hafeez Adewusi, Pharm.D. ('21), also was among the workshop facilitators.