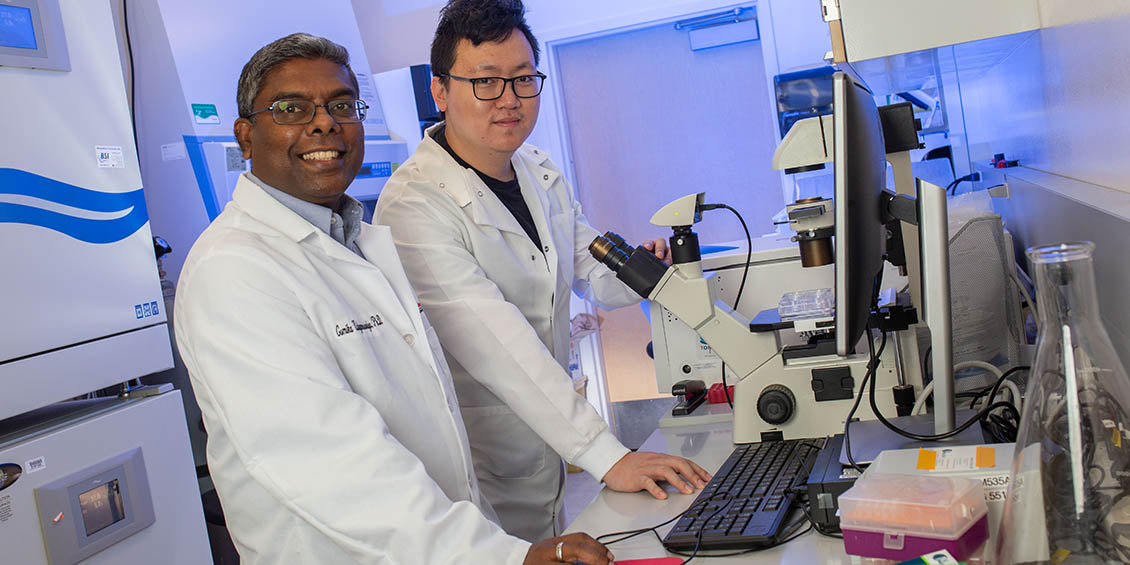 Promising Lead Against Cancer's 'Most Wanted'
Ph.D. Student Earns Regional MALTO Conference Presentation Award for Work on Synthetic Compound Inhibiting Growth, Spread of Cancer Stem Cells
June 29 — A University of Houston College of Pharmacy student researcher's work on a novel synthetic compound that inhibits the survival, growth and migration of cancer stem cells (CSC) found in non small cell lung cancer (NSCLC) – the leading cause of cancer deaths in the U.S. and the world, with a five-year survival rate of only 5% – was recognized at a regional conference of researchers in the fields of medicinal chemistry and pharmacognosy.
Haowen Zhang, a Ph.D. student in the Pharmaceutical Sciences-Medicinal Chemistry Concentration degree program, earned the Robert A. Magarian Outstanding Podium Presentation Award at the 47th Annual MALTO Medicinal Chemistry Pharmacognosy Meeting May 18-20 at The University of Mississippi.
Zhang and UHCOP Associate Professor Gomika Udugamasooriya, Ph.D., along with postdoctoral researcher Satya Prakash Shukla, Ph.D., discovered their novel peptoid compound dubbed JM3A using a unique, bead-based, two-color (OBTC) cell screening technique the team had developed to identify the highest selective drug-leads out of millions of chemical compound libraries. This patent-pending JM3A selectively binds to the protein vimentin, which has been identified as an important biomarker of drug-resistant CSCs or tumor-initiating cells that govern the survival, growth and spread of tumors. 
Further optimization of JM3A derivatives were shown to inhibit vimentin-rich CSC survival, growth and migration activity on non small cell lung cancer with high potency. At the same time, the derivatives showed no activity in normal lung cells or vimentin-deficient cancer cells.
Future research by the lab will utilize computer-aided programs to further refine the derivatives as well as elucidate their biological mechanisms of action in pursuit of potential anticancer therapeutics.
The Magarian award is named for one of the co-founders of the conference, which was created in 1974 by faculty members at institutions from Arkansas, Louisiana, Texas and Oklahoma (lending to the original name of "ALTO"), with Mississippi joining after the 1977 meeting and the current event name established. The meetings are intended to foster share research in an atmosphere of fellowship but also provide a venue for graduate students, undergraduate students and postdoctoral fellows to hone their presentation skills.