Rania El-Desoky
Academic Pharmacy Fellow Alumna Returns to College as Pharmacy Practice and Translational Research Faculty Member 
January 18 – Rania El-Desoky, Pharm.D., BCPS, an alumna of the UH College of Pharmacy Academic Pharmacy Fellowship program, has rejoined the college as a clinical assistant professor in the Department of Pharmacy Practice and Translational Research.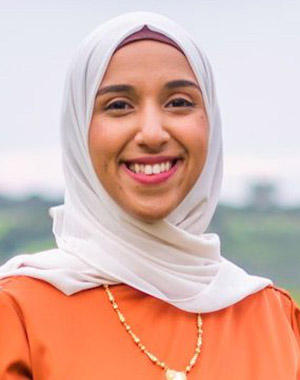 El-Desoky earned her Doctor of Pharmacy degree from Xavier University of Louisiana College of Pharmacy in 2018 and went on to complete an ambulatory care-focused PGY1 pharmacy practice residency at Xavier. She then worked as an ambulatory care clinical pharmacist at the Brooke Army Medical Center in San Antonio, where she also co-precepted pharmacy residents and led the preceptor development program. In 2020, El-Desoky joined the one-year UHCOP Academic Pharmacy Fellowship program, where she participated in a variety of teaching, pharmacy skills development, and academic research activities.
During her fellowship, El-Desoky was awarded a $2,000 Promoting Active Learning and Mentoring (PALM) Network grant to implement active-learning activities into a course within the Pharm.D. degree program curriculum. The PALM program is funded by a National Science Foundation Research Coordination Network in Undergraduate Biology Education grant, with project support from Professional Societies Alliance for Life Science Education.
She also was named as a 2021 American Association of Colleges of Pharmacy (AACP) Walmart Scholar, with UHCOP's Elisabeth Wang, Pharm.D., BCCP, clinical assistant professor, serving as her program mentor, and received a POD Network Career Development Grant from the Professional and Organizational Development (POD) Network in Higher Education to participate in the 46th Annual POD Network Conference.
She authored a paper in the Clinical HIV and AIDS Journal and was invited to provide commentary in an article on Epilepsy Journey, an online multimedia platform in association with Neurology Reviews. In addition, she has authored or coauthored research poster presented at annual meetings of the AACP, American College of Clinical Pharmacy, the American Society of Health-System Pharmacists and the Texas Society of Health-System Pharmacists (Alcalde).
As a student at Xavier, El-Desoky won both the local competition of the American Society of Health-System Pharmacists Clinical Skills Competition and the student poster competition at the Louisiana Society of Health-System Pharmacists. Recognized with the highest scholastic standing of her class at Xavier in 2018, El-Desoky was also the recipient of the Albert P. Lauve Hospital Pharmacy Memorial Award, Academic Excellence Award, Xavier University of Louisiana Rousseve Scholarship, Alpha Lambda Delta Order of the Torch Award, and the Leah B. Gordon Memorial (Alpha Kappa Alpha) Scholarship.
Her academic and research interests include the scholarship of teaching and learning, ambulatory care pharmacy, chronic disease state management, preventative care, and health disparities.