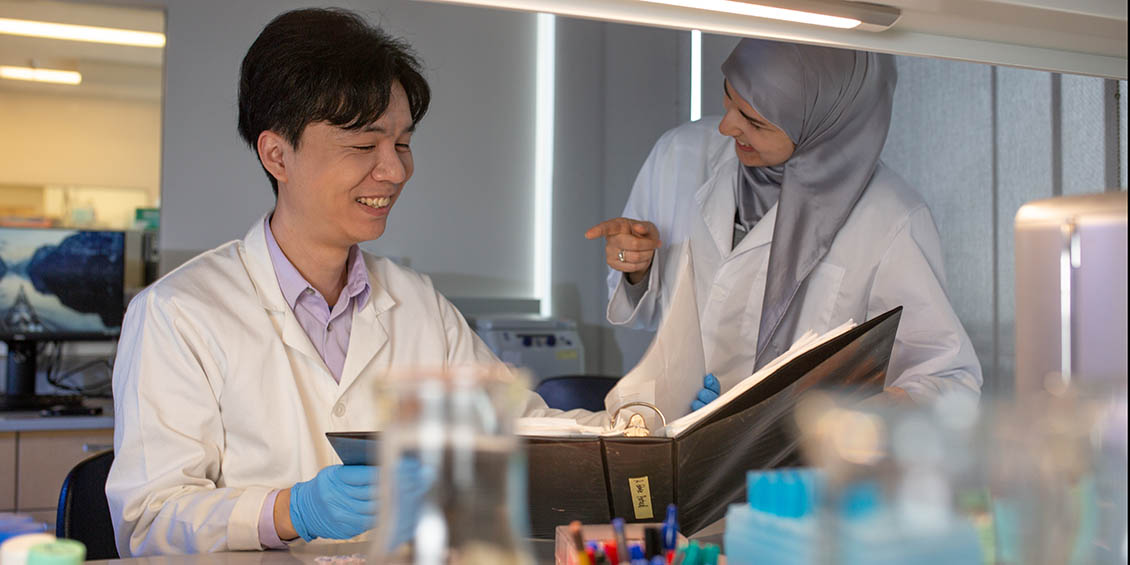 Taming the Toxicity 
New PhRMA Foundation Fellowship for Ph.D. Candidate Aids Research into Reducing Chemotherapy's Gut Toxicity 
February 21 — Witnessing the devastating physical and psychological toll of cancer and chemotherapy not only on patients themselves, but also the emotional pain the disease and treatment caused to their family and friends guided UH College of Pharmacy Ph.D. candidate Gabriel Tao to seek better solutions to current oncology therapeutics.
Tao's investigations into how treatments for certain types of cancer can be modified to minimize the pain and discomfort experienced by patients recently received a boost thanks to a $25,000 Predoctoral Fellowship in Drug Discovery from the PhRMA Foundation.
Irinotecan is one of the first-line treatments for colorectal cancer (CRC), but a common side effect – and a leading cause of treatment failure – is gastrointestinal toxicity presenting as diarrhea. Once administered, irinotecan is processed by the liver, and a microbial gut reaction produces a toxic metabolite, SN-38, which then gets eliminated via feces.
How irinotecan-induced diarrhea develops and identification of a nutritional approach to help the body develop a defense to the toxicity is the focus of Tao's current research efforts. UGT1A1 enzymes seem to be the key to this nutritional approach, he said.
"In a healthy person, UGT enzymes are highly expressed in the gut," Tao said. "After taking the chemotherapy drugs, we saw excessive inflammation that reduces the UGT enzymes in the gut. Before long, this damages the gut and causes loss of function where the patient develops diarrhea. Based on this discovery, we are seeking to inhibit inflammation and restore enzyme levels and function and avoid side effects."
So far, this approach has worked well in mouse models, with anti-inflammatory nutritional supplements showing efficacy in mitigating gut damage. As benchwork research continues on the approach, Tao's team wants to work with hospitals to launch a clinical trial to verify the hypothesis of using nutrition therapy to provide safer regimen in treatment of cancer.
"One of my close friend's parents passed away due to cancer," Tao said. "I learned that cancer's reach has a much wider impact than I ever considered. Besides bringing enormous pain and suffering to the patients, it also affects family and friends.
"It's a devastating experience. Chemo has such terrible side effects. Patients and relatives tell me that the drugs are the problem, in many ways, worse than the cancer itself sometimes. Toxicity response is dramatic and terrible. This motivates me to do something to help develop treatments that are better and understand why this happens."