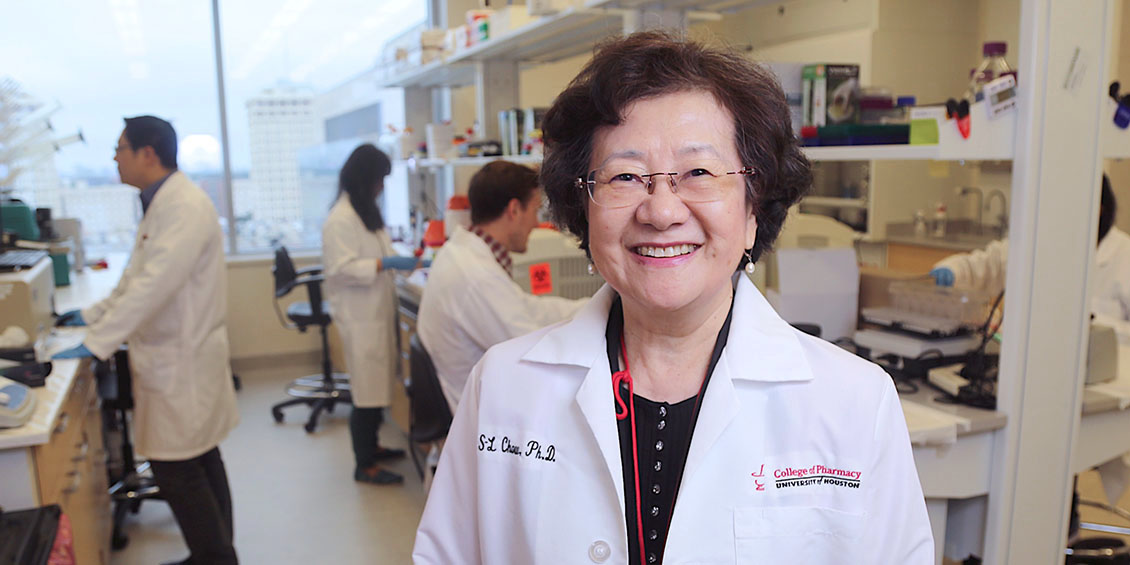 Outstanding Mentor Award
UH Winner, Nominee Chow Earns Conference of Southern Graduate Schools Honor
February 25 — UH College of Pharmacy's Diana S-L. Chow, Ph.D., FNAI, John J. Lovoi Sr. Professor of Drug Discovery and Development and professor of pharmaceutics, has been awarded the 2022 Outstanding Mentor Award from the Conference of Southern Graduate Schools (CSGS) at its annual conference Feb. 17-19 in Raleigh, N.C.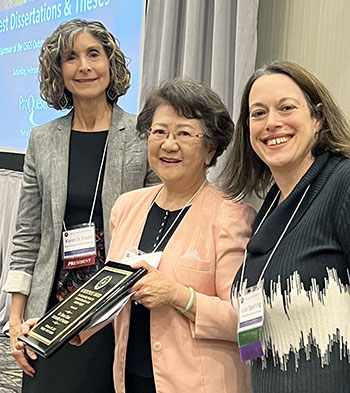 Chow was UH's nominee for the CSGS honor after earning the university's Outstanding Mentor Award recipient in 2021.
Chow has trained and mentored 41 Ph.D. and seven master's degree students as well as dozens of postdoctoral fellows, visiting scholars and undergraduate students during her 41 years at UHCOP. Under her guidance, mentorship and research support, Chow's students have excelled in producing award-winning research at major scientific conferences and, following graduation, secured highly productive and successful careers in academia, the pharmaceutical industry and regulatory setting, including the Food and Drug Administration.
Chow is an internationally recognized researcher and expert in the field of pharmaceutics, particularly the study of pharmacokinetics/pharmacodynamics, and modeling, as well as the development and analyses of novel drug formulations and drug-delivery systems for the treatment of leukemia, cancer, infection and acute spinal cord injury as well as studying the stability and efficacy of medications used in space flights on the International Space Station.
She has authored/co-authored more than 70 peer-reviewed journal articles, three book chapters and more than 250 abstracts presented at scientific conferences/meetings, as well as delivered more than 45 invited lectures/seminars. Chow's research has resulted in more than 10 U.S. and international patents. In addition to her faculty position, Chow also serves as director of the Institute for Drug Education and Research.
"It is my greatest joy to witness the academic, professional and personal growth of individual students during their graduate years and later in their career pursuit," Chow said in thanking CSGS for the recognition. "I have been deeply touched over the years when students trusted me enough to share with me their inner, deeper life struggles or challenges. I realized and admitted that I might not have all of the solutions, but I sincerely cared for their well-being as if they were my own children.
"I have a special burden for female students who either are managing a family during graduate school or will be at some point in the future, as I have personal experience about those loads. Therefore, I encourage them to develop the ability of managing multi-task and the skills to handle demands in life efficiently and calmly with poise and grace."
Chow also acknowledged her late parents, Cheng-Yok and Kai-King Chow; her late Ph.D. supervisor, Janis Runikis; the late UHCOP Dean Joseph P. Buckley; and then-Department Chair Stuart Feldman, who hired her right out of graduate school.
"Above all, I want to lift the honor to my Lord who has led me all the way, and placed me with the students and colleagues who have impacted my life in various precious ways," Chow said.
The CSGS comprises 200 graduate schools spanning the states of Alabama, Arkansas, Florida, Georgia, Kentucky, Louisiana, Maryland, Mississippi, North Carolina, Oklahoma, South Carolina, Tennessee, Texas, Virginia and West Virginia, as well as the District of Columbia. According to the CSGS website, the organization's "purpose is to consider topics relating to graduate study and research which are of mutual interest and concern to the member institutions. In addition, dissemination of information, promotion of standards, encouragement of research, and assistance to institutions starting graduate programs are important functions of the organization.