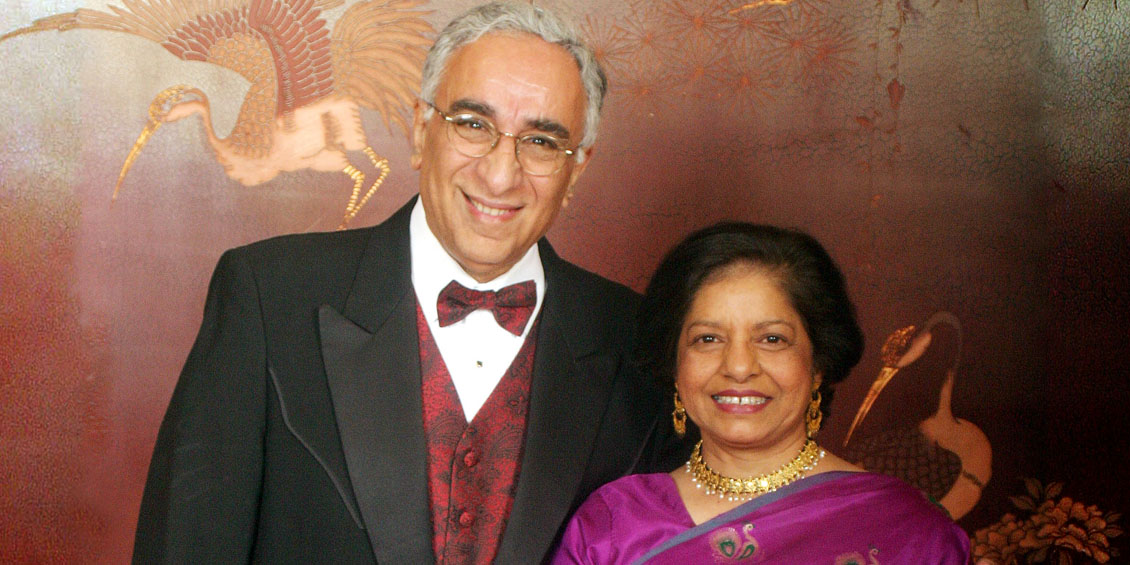 First for Pharmaceutical Health Outcomes and Policy
Former UHCOP Dean Lokhandwala and Wife Establish Endowed Professorship for PHOP Department Chair
March 9 – Mustafa F. Lokhandwala, Ph.D. ('75), FAHA, FASN, UHCOP Joseph P. and Shirley Shipman Buckley Endowed Professor for the Heart and Kidney Institute, professor of pharmacology and former dean, and his wife, Sanober, have established the college's first endowed professorship for the chair of the Department of Pharmaceutical Health Outcomes and Policy (PHOP). 
"I wanted to recognize the PHOP department because of the outstanding job the chair (Professor Rajender R. Aparasu, Ph.D., FAPhA) has done in building up the department," Lokhandwala said. "The department has been very successful in recruiting and retaining highly productive faculty, in terms of scholarship and grant awards, and they are engaged in useful, relevant research to ultimately help patients, which is why we're all here. The department also has done an outstanding job in educating and preparing their students to get excellent positions in industry and academia.
"In the future, having an endowed professorship that provides support to a high-profile faculty member can make a significant, positive impact on the quality and quantity of health outcomes and policy research and education as well as advance the department's recognition and reputation." 
Lokhandwala came to the U.S. from India in 1966 when attended the College of Pharmaceutical Sciences of the City of New York, Columbia University, and obtained an M.S. degree in Pharmacology in 1968.  Subsequently, he worked for a drug company before returning to India to marry his childhood sweetheart, Sanober. The two returned to the U.S., where Lokhandwala enrolled in the Ph.D. program in pharmacology at the University of Pittsburgh, School of Pharmacy. In 1972, he and a few fellow graduate students and professors moved to UHCOP. Upon graduating with a Ph.D. from UH in 1975, he was offered an appointment as an assistant professor in the college.
In 1981, he became chair of the Department of Pharmacology and, working in collaboration with former Dean Joseph P. Buckley (for whom Lokhandwala holds an endowed professorship as director of the college's Heart and Kidney Institute) and faculty members, was able to get a Ph.D. program in pharmacology approved by the Texas Higher Education Coordinating Board (THECB).
In 1992, he was recruited to serve as UHCOP dean. During his tenure, his main focus was to get an entry-level Pharm.D. program approved by THECB, which he was able to accomplish in 1996 after many strategic and political maneuvers. In 2002, Lokhandwala stepped down from the dean's position, but continued to teach and conduct research with uninterrupted support from the National Institutes of Health into hypertension, kidney disease/dysfunction, and cardiovascular disease.
Lokhandwala was appointed as Executive Vice-Dean for Research in 2003 and continued in that position until 2019. During his tenure in this position, external research funding in the college grew from $500,000 to over $11 million dollars in FY2018. This was accomplished by working in collaboration with the current and former dean, along with department chairs, to encourage and provide resources for faculty members to obtain research funding and by strategic recruitment of NIH-funded faculty members.
As professor of pharmacology and director of the college's Heart & Kidney Institute, Lokhandwala currently spends his time conducting research and training graduate students and postdoctoral fellows. An internationally recognized leader in cardiovascular pharmacology, Lokhandwala is a fellow of both the American Society of Nephrology and the American Heart Association. He has authored/coauthored more than 200 peer-reviewed journal articles and reviews, 200-plus abstracts, and more than two dozen books and book chapters. 
Memberd of the college's Mading Society of benefactors, Lokhandwala also has established an endowed scholarship for Pharm.D./Ph.D. students at UHCOP and contributed to the creation/expansion of several other endowed scholarships at the college.
Outside of the laboratory and classroom, the Lokhandwalas enjoy traveling, attending Broadway plays in New York and getting together with friends for dinners and other fun-filled activities.