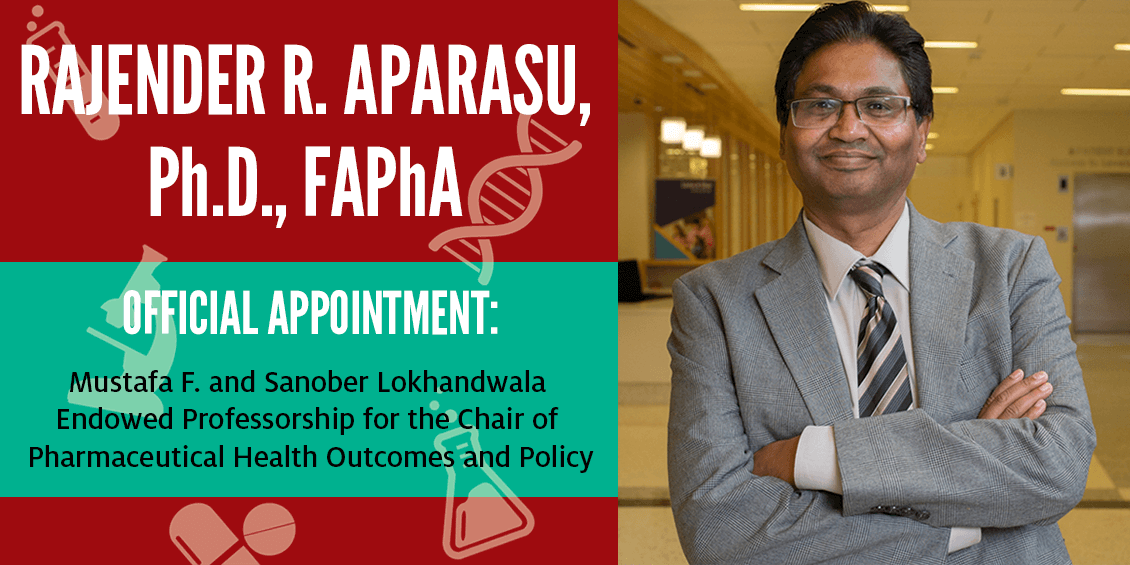 Pritchard Officially Appoints Aparasu as Lokhandwala Endowed Professor for Pharmaceutical Health Outcomes and Policy Chair
June 30 — UH College of Pharmacy Dean F. Lamar Pritchard, Ph.D., R.Ph., has officially announced the appointment of longtime faculty researcher and administrator Rajender R. Aparasu, Ph.D., FAPhA, as the inaugural Mustafa F. and Sanober Lokhandwala Endowed Professor for the Chair of Pharmaceutical Health Outcomes and Policy (PHOP). 
Aparasu obtained his Ph.D. in Pharmacy Administration from the University of Louisiana-Monroe and joined UHCOP in 2006 after serving on the faculty at the South Dakota State University for more than a decade. 
He is credited for his work helping UHCOP revamp its defunct master's degree in pharmacy administration, establish a Ph.D. degree program in pharmacy adminstration (now the Pharmaceutical Health Outcomes and Policy of the Pharmaceutical Sciences doctoral degree program) and a combined Ph.D./M.A. in Applied Economics, and create a concurrent health-system pharmacy leadership and administration M.S./PGY1-PGY2 residency program with several fellow Texas Medical Center institutional partners. 
Aparasu's primary areas of expertise include pharmacoepidemiology, geriatrics, psychopharmacology and evidence-based medicine. He has served as principal investigator as well as co-investigator on grant projects funded by the National Institutes of Health's Agency for Healthcare Research and Quality (AHRQ), pharmaceutical industry and foundations.
Aparasu has authored or coauthored nearly 135 peer-reviewed journal articles and seven book chapters, as well as served as editor or co-editor of two books (Principles of Research Design and Drug Literature and Research Methods for Pharmaceutical Practice and Policy).
Aparasu was recognized by his peers with the Fellow of the American Pharmacists Association (FAPhA) for his exemplary professional achievements and outstanding service and contribution to the pharmacy profession. The recipient of several research presentation awards during his career, he holds editorial board appointments on six peer-review journals and has been recognized as an "exceptional" reviewer by five peer-review journals. He also serves on the U.S. Fulbright Specialist Roster, which sent him to Jakarta, Indonesia, in 2019 to provide academic and research program development guidance to faculty, administrators and students at Atma Jaya Catholic University.
The endowed professorship was recently created by UH alumnus, former dean and executive vice dean for research, and lifelong UHCOP faculty researcher Mustafa F. Lokhandwala and his wife, Sanober, in recognition of Aparasu's leadership in developing a team of highly productive and successful researchers in his department along with affiliated academic programs.