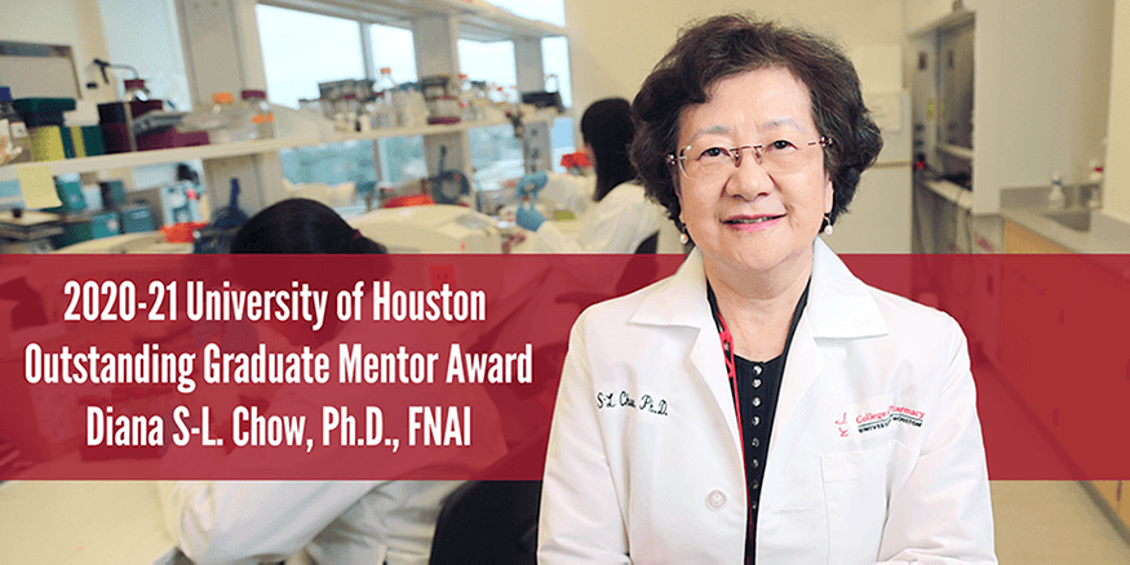 'Advisor for Life'
UHCOP's Chow Earns UH Outstanding Graduate Mentor Award from Provost's Office
April 23 — UH College of Pharmacy's Diana S-L. Chow, Ph.D., FNAI, Paula & John J. Lovoi Sr. Endowed Professor of Drug Discovery and Development, has been recognized with the 2020-21 UH Outstanding Graduate Mentor Award by the UH Office of the Provost.
Chow, who also serves as Director of the college's Institute for Drug Education and Research, has been a faculty member at the college since 1981. Chow is an internationally recognized researcher and expert in the field of pharmaceutics, particularly the study of pharmacokinetics/pharmacodynamics, and modeling, as well as the development and analyses of novel drug formulations and drug-delivery systems for the treatment of leukemia, cancer, infection and acute spinal cord injury as well as studying the stability and efficacy of medications used in space flights on the International Space Station.
She has authored/co-authored more than 70 peer-reviewed journal articles, three book chapters and more than 250 abstracts presented at scientific conferences/meetings, as well as delivered more than 45 invited lectures/seminars. Chow's research has resulted in more than 10 U.S. and international patents.
Under her guidance, mentorship and research support, Chow's students have excelled in producing award-winning research at major scientific conferences and, following graduation, secured highly productive and successful careers in academia, the pharmaceutical industry and regulatory setting, including the Food and Drug Administration. During the course of her career, Chow has trained 39 Ph.D. students, including two Pharm.D./Ph.D. dual degree students, seven M.S. students and 25 postdoctoral fellows/visiting scholars.
"I am humbly honored to be selected as the recipient, because I know many colleagues on campus are equally qualified for the title," Chow said. "The genuine friendship and close knits like loving family members established through years are most rewarding and touching to me in my 40-year career in UHCOP.
"I shared the great joy in learning or witnessing the success, as well as the professional and personal growth of each of my graduates or past postdoctoral trainees. I am also grateful to know they have trust in me for consultation even years or decades after their graduation."
Chow's colleague, UHCOP Associate Professor Meghna Trivedi, Ph.D., Pharm.D., BCOP, nominated her for the award.
"Dr. Chow patiently and gradually builds within each trainee the needed qualities, for being logical, analytical, resourceful, ever expanding problem-solving skills, perseverance and life-long learning in scientific and career pursuits," Trivedi stated. "The students are encouraged to fully develop their capacity with unique strengths, and recognize the need to work on particular areas of weakness to avoid future pitfalls."
"She stresses the work ethic in every future endeavor, and receptive mind to respond positively to and benefit from constructive criticism in their careers," Trivedi wrote. "She also mindfully helps students and alumni gain aptitude in time-management, emotional maturity, and financial stability as a wholesome person."
Trivedi also noted the Chow's commitment to fairness and character building in acknowledging and rewarding the contributions of her mentees in publication authorship, presentations and patent ownership.
In the words of former students and mentees who wrote letters in support of her selection: 
"I affectionately call her my 'advisor for life' because she has guided me through many challenging times in both my professional career as well as my personal life."
"It is not just how many students have passed through Dr. Chow's lab but the type of well-rounded education received by the student and mentoring provided by Dr. Chow that has made meaningful difference in lives of students. Graduates consider her as a major contributor to their success and universally look to her for support after they leave the university and establish a life-long relationship with the department as a community."
"In cases which seemed like no-win situations, I was so grateful and felt lucky that I could turn to Dr. Chow for steady counsel, often at nights and in weekends she was always available to assist."
Chow said the gratification and fulfillment that comes with seeing mentees grow and realize their potential makes the investment of time and energy worthwhile. 
"Every student is so unique and precious," Chow said. "Graduate mentoring is a noble calling to commit ourselves for the invaluable mission of building up each individual by being firm but compassionate, through these prime learning years in the student's graduate pursuit.
"Keeping up the high standard for striving for excellence, but treating individuals with respect and genuine care, and be mindful about observing fairness and transparency about dealings among all members in the team."