UHCOP Alumni Reunions
UH Pharmacy alumni across several generations have organized and hosted reunions to reconnect and reminisce with their classmates.
One of the most popular types of class reunions is the "Golden Cougar Walk" in which alumni are invited back to campus for their 50th anniversary of graduation from the college. Each year, Golden Cougars are invited to don the cap and gown and be recognized during the college's Graduation Convocation Ceremony for the new class of graduate from the college. For more information, visit the Golden Cougars page.
Other class reunions range from formal to informal and on- or off-campus, UHCOP class reunions offer the opportunity to reconnect with classmates, share personal and professional achievements, trade "war stories," relive cherished memories and make new ones.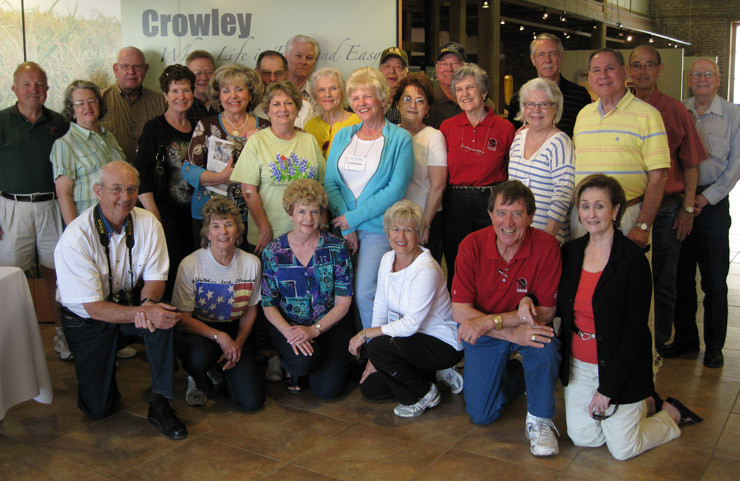 Among the recent Class Reunions were:
Class of 2006 — In celebration of their 10-year anniversary, the Pharm.D. Class of 2006 organized a weekend of activities that included a Houston Astros night game at Minute Maid Park and a Sunday brunch at the Dave & Busters restaurant and arcade.
Classes of 1960-1962 — The Pharmacy classes of 1960, 1961 and 1962 have been hosting annual get-togethers for several years, including the most recent event in San Antonio in 2016.
Although not technically alumni reunions, numerous one-time and recurring events held throughout the year — such as the UHCOP Golf Classic and the Cougar Football Tailgates — provide ample opportunities for alumni of every generation to make new memories with fellow Pharmacy Cougars.
Classmate Connections
Are you interested in hosting or organizing an alumni reunion, but need help spreading the word? The College of Pharmacy can assist alumni in contacting former classmates, as well as checking the availability of space at the UH Hilton Hotel or UH Alumni Center for reunions held on campus.
Regardless of location, the college welcomes the submission of reunion announcements as well as photos and reports after the event to share with everyone in the University of Houston and College of Pharmacy family.
Please contact Marianne Dwyer, UH Chief Development Officer for Medicine and Health, at Mdwyer@central.uh.edu or 713-743-4137.