Emily A. Messa, Ph.D., C.A.S.P.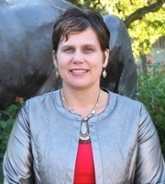 Senior Associate Vice Chancellor & Senior Associate Vice President Administration
Emily A. Messa, Ph.D., C.A.S.P. serves as Senior Associate Vice Chancellor (UH System) & Senior Associate Vice President for Administration (UH) in 2011, with dual roles of responsibility including leading a team of more than 50 full-time and student employees in addition to 700-plus contractors across third-party dining, parking, shuttle and bookstore operations, overseeing a broad portfolio encompassing campus auxiliary services departments that provide core business services to the campus community, as well as directing system master planning in these areas and serving as chair of the UH System-wide Public Art Committee, an advisory committee to the UH System Board of Regents. Dr. Messa has also served on the national board of the National Association of College Auxiliary Services, as an at-large board of director and is currently serving as the vice president for the NACAS Foundation Board. In 2022, Dr. Messa was placed on the Fulbright Specialist Roster through 2026.
With nearly 25 years of extensive higher education experience, Dr. Messa established the University's first shared governance committee for sustainability and leads the University's efforts to incorporate sustainable practices into all aspects of its operations. She brings extensive capital program assessment, improvement and measurement effectiveness expertise through which she developed the inaugural annual Capital Improvement Plan (CIP), resulting in a five-year capital plan that prioritizes capital renewal and deferred maintenance projects to develop the campus master plan presented annually to the Board of Regents.
In 2019, Dr. Messa earned the prestigious designation of Certified Auxiliary Services Professional (C.A.S.P), the only benchmark certification that measures the needed competencies of college and university executives who oversee multiple auxiliary services on a college or university campus. She is the first-ever UH System representative to earn the industry certification.
Nominated as a Mayoral Appointee to the Houston Clean City Commission in 2010, Dr. Messa was named one of "35 People Who Have Changed Houston" by the Houston Clean City Commission.
Honored as a recipient of the UH President's Award in 2004, she is recognized as an innovative leader in program assessment, measurement and analysis of employee performance and customer service excellence in higher education.
Dr. Messa is a prolific published author and presenter at national higher education forums and conferences and currently a lecturer in the College of Education at the University with extensive teaching experience on topics such as Higher Education Finance, Student Development Theory, Administration, and Strategic Planning in Higher Education.
She has served as a distinguished reviewer for the Journal of Applied Research on Higher Education and the Journal of Public Personnel Management, internationally peer-reviewed scholarly publications with both traditional and emerging topics and analysis of the myriad of changes in the political, economic, social and technological arenas at all levels and the impact on higher education, as well as timely, rigorous analysis and assessment on the effects of specific HR procedures or programs on the management function and the broader areas of public policy and administration.
She received her Doctorate in Philosophy, Educational Psychology and Individual Differences and Master's in Education, Administration & Supervision—Higher Education from the University of Houston, and a Bachelor of Arts degree in English from Texas Tech University.