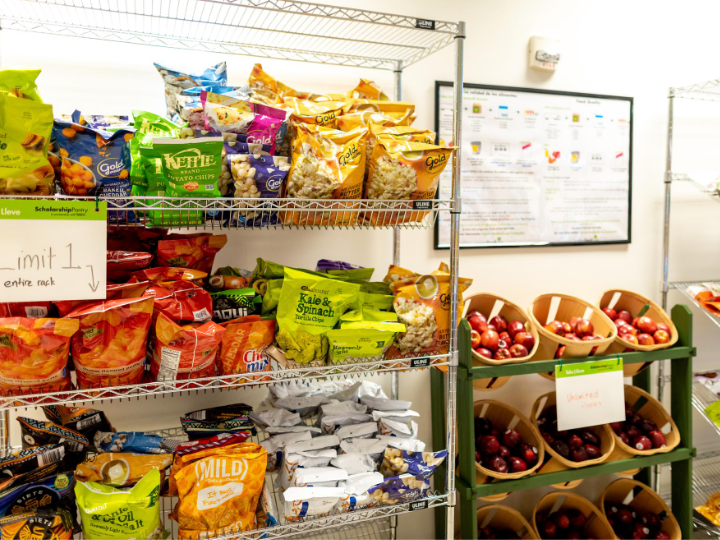 The University of Houston has received a $100,000 gift from the Cullen Trust for Higher Education to aid University students and members of the community who are in immediate need of food assistance. The gift supports efforts at UH and the Houston Food Bank to raise awareness on the growing issue of food insecurity due to the COVID-19 pandemic.
The Houston Food Bank is now distributing more than twice the amount of food it did before the pandemic and the need for donations and volunteers is critical. In response to the growing need, Corbin Robertson, chairman of the Cullen Trust for Higher Education and member of the UH Energy Advisory Board, established the Spirit Food Fund, an initiative to raise support for and community awareness of the Houston Food Bank.
"The University of Houston is a natural partner for us to work with on this critical issue," said Mr. Robertson. "I hope this gift galvanizes the UH and Houston community to do what they can to support the Houston Food Bank during this unprecedented time."
A portion of the grant will go toward the UH Cougar Cupboard, an on-campus food pantry established in January as part of the food bank's Food for Change market network. Located on the first floor of the UH Campus Recreation and Wellness Center, the cupboard is available to all UH students who may need access to additional fresh fruit, vegetables and frozen and refrigerated foods.
More than 450 UH students have enrolled in the program, and in the eight weeks Cougar Cupboard was open in spring 2020, more than 7,000 pounds of food was distributed to students during 837 visits. Another 95 students were served during curbside pickup in June.
Students must attend a one-time market orientation and complete a short application for the Houston Food Bank's Food Scholarship Program to utilize the cupboard. However, cupboard operations are currently suspended due to the Harris County Stay Home Work Safe red alert. Starting August 24, enrolled students will be able to RSVP to pick-up pre-bagged groceries Mondays and Wednesdays from 1-5 p.m. and Tuesdays and Fridays from 9 a.m. - 1 p.m.
As personal finances have been devastated by the coronavirus, about 40% of people visiting food banks nationwide are first-time recipients of food assistance, according to estimates from the food assistance nonprofit Feeding America. 
"This generous gift from the Cullen Trust comes at a critical time for our students struggling with food insecurity. Even before the pandemic, many students faced financial challenges impacting the quality of their nutrition, and this public health crisis has only compounded the problem," said Richard Walker, vice president of student affairs and enrollment services. "As a University community, we are committed to helping our students get through this difficult time."
Research has shown food insecurity is associated with reduced academic performance and lower rates of degree completion. Reuben Parrish, assistant director for health education at UH Wellness, said the gift is vital to provide continued support to students, who can receive up to 30 lbs. of free groceries every week from Cougar Cupboard or one of the other 14 Food for Change markets in Houston.
"The need has been steady even though campus is quiet with classes moved online, but we're still serving dozens of students at the curbside each week. The longer the pandemic continues, I anticipate the need to increase even more. I'm so very thankful for the generosity of the Cullen Trust to help address this important issue," said Parrish. 
The gift is part of the "Here, We Go" Campaign, the University of Houston's first major system-wide fundraising campaign in more than 25 years. The University has raised more than $1.2 billion to address key priorities, including scholarships, faculty support and strengthening the university's partnership with Houston, and momentum continues as UH moves beyond its original billion dollar goal.
"We are deeply grateful for the thoughtful investment by the Cullen Trust for Higher Education to help us raise awareness of the real struggle many of our students face with food insecurity. This timely gift will get us closer to ensuring each student can focus on their studies instead of worrying about their next meal," said Eloise Brice, vice president for University advancement.
---