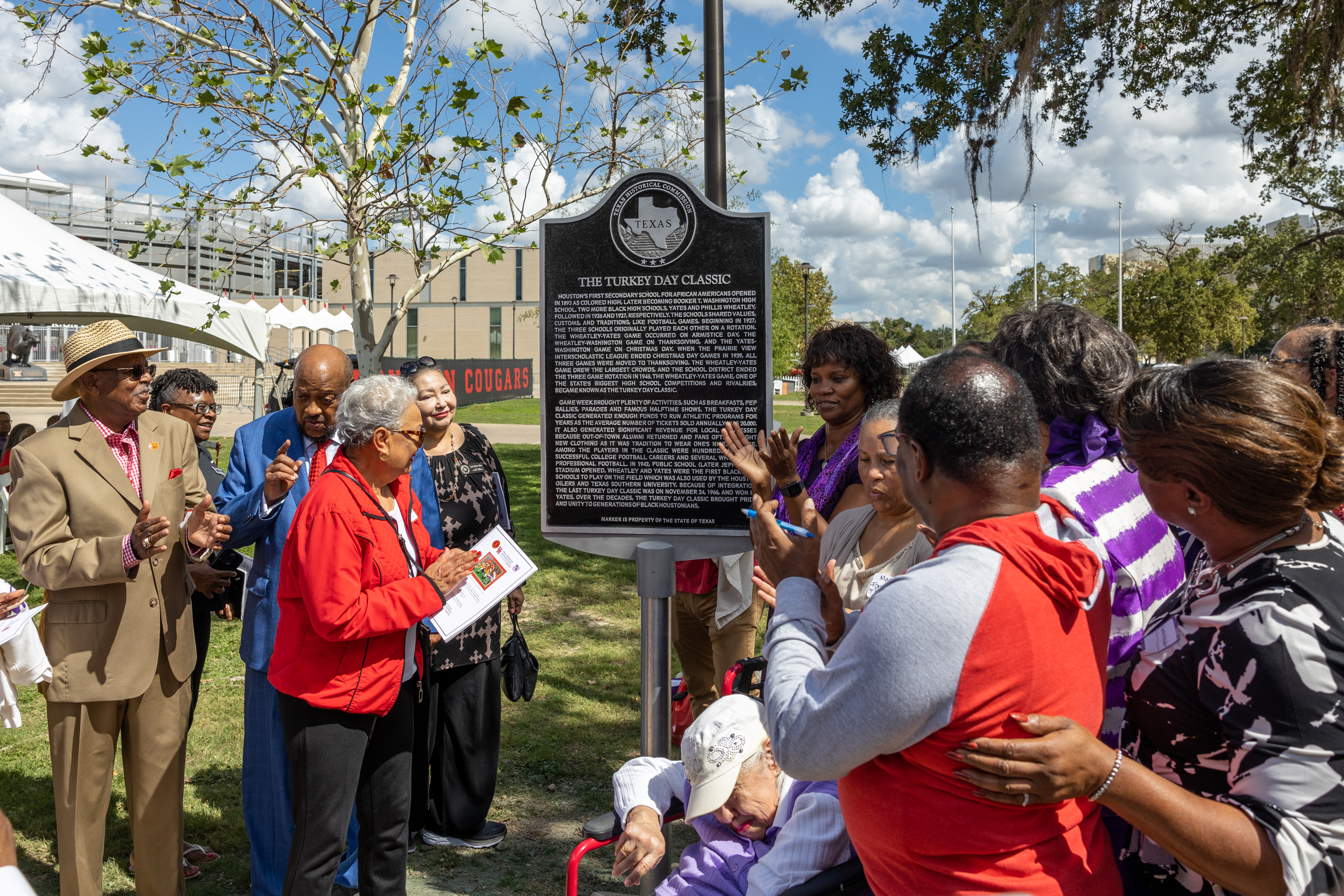 For two decades, the Turkey Day Classic football game between Phillis Wheatley High School and Jack Yates High School took place in Jeppesen Stadium every Thanksgiving Day from 1946-1966. Widely considered one of the most significant high school football rivalries in Texas history, the competition was played on the site that is now TDECU Stadium on the University of Houston campus.
Recognizing the impact that the schools' annual tradition had on the Third Ward and Fifth Ward communities, respectively, on Sept. 22nd, 2023, the Harris County Historical Commission unveiled an official texas historical marker for the Turkey Day Classic near the intersection of Cullen Blvd. and Cougar Place Dr., southeast of TDECU Stadium.
The University was proud to host Yates and Wheatley alumni, including former football players, drill team, band members and cheerleaders, along with local leaders and dignitaries, for an invitation-only ceremony and luncheon.
"As part of the Third Ward Initiative's mission, the University of Houston strives to celebrate the history and culture of our shared neighborhood," said Elwyn Lee, UH vice president for neighborhood and strategic initiatives. "In pursuit of that goal, the University applied for the state historical marker to raise awareness about this incredible high school football rivalry. The Turkey Day Classic truly transcended the gridiron to become a community spectacle that has been cherished for generations."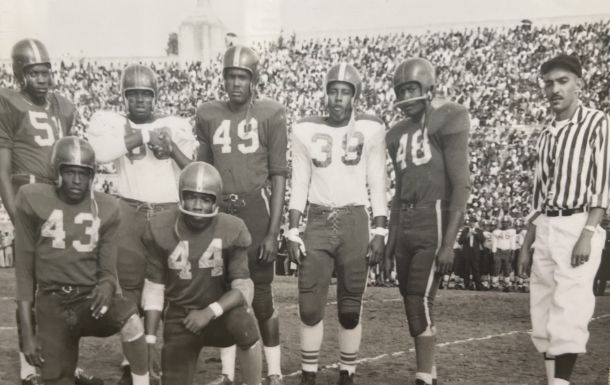 In the words of Thurman Robins, author of "Requiem for a Classic," the Turkey Day Classic, that evolved into a Turkey Day week, was more than a game; it had parades, floats, "dressed-to-kill' fans, fancy automobiles, and dances before and after the game. The classic was the social, cultural and entertainment event of the year for the entire Black community of Houston. Throngs of fans – as many as 30,000 strong – turned out to witness the game each Thanksgiving from 1946 –1966, though the rivalry dates to 1927 when Yates and Wheatley first played each other on the gridiron. The game took place at Jeppesen Stadium which was renamed as UH's Robertson Stadium in 1980 before being demolished in 2012 to make way for TDECU Stadium, which opened in 2014.
In addition to Elwyn Lee, the planning committee for the unveiling included Debra Blacklock- Sloan, Harris County Historical Commission member and Wheatley alumna; Carolyn Moore Wright, Wheatley alumna; Jeffrey Boney, president of the Jack Yates Alumni Association; Carl Davis, Yates alum; Sara Lujan Donatto, UH Office of Government and Community Relations; and Karl Hearne, UH Staff Council President Elect.
Debra Blacklock-Sloan remarked, "Unveiling the historical marker was a proud, historic moment for both alumni! When I approached Dr. Lee about the idea in 2019, he was more than ready to collaborate on preparing the marker application and narrative which was a true labor of love for me as a Wheatley alumna. Harris County Historical Commission member Bernice Mistrot provided invaluable assistance, as did sports enthusiasts/historians Michael Hurd and Mike Vance."
Texas has the largest marker program in the United States with approximately 17,000 markers. "The Official Texas Historical Marker program helps bring attention to community treasures and the importance of their preservation," said Mark Wolfe, executive director of the Texas Historical Commission (THC). "Awareness and education are among the best ways to guarantee the preservation of our state's history."