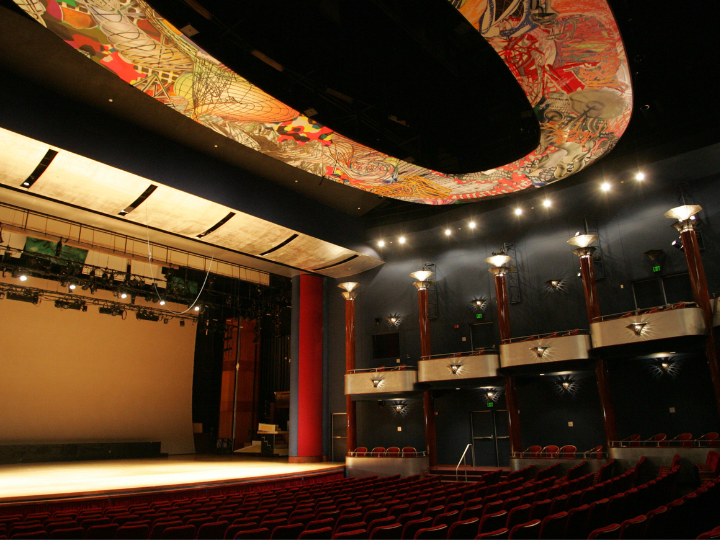 The University of Houston's Kathrine G. McGovern College of the Arts announces two new productions this winter in the Moores Opera House, featuring students from the Moores School of Music and the School of Theatre and Dance. The 800-seat Moores Opera House is one of the finest purpose-built opera theaters in the country, providing young singers an ideal environment in which to perform and advance their craft. It offers audiences a beautiful, comfortable and intimate theater in which they can see some of the most exciting emerging talent in the country.
To toast the new year in January, the Moores Opera Center will raise a glass to comedy and decadence with a new production of "Die Fledermaus" (The Revenge of The Bat), the quintessential Viennese operetta. The score by Johann Strauss Jr. is full of memorable melodies and swinging waltzes, and the libretto by Karl Haffner and Richard Genée is full of comic intrigue. New Moores Opera Center Artistic Director, Lawrence Edelson, collaborates with Moores School of Music alumnus, conductor Keith Chambers on a sparkling new production. Chambers is a University of Houston alum who has gone on to conduct at Dallas Opera, Seattle Opera, and other prominent companies.
February brings a revelatory revue full of wonderful moments and a funny, affectionate and revealing tribute to musical theater's greatest living composer and lyricist with "Sondheim on Sondheim" (music & lyrics by Stephen Sondheim, conceived and directed on Broadway by James Lapine). This intimate portrait is of the famed songwriter in his own words and music. Through the use of exclusive interview footage, audiences get an inside look at the personal life and artistic process of famed composer, Stephen Sondheim. This Kathrine G. McGovern performance is a collaboration between the Moores School of Music and the School of Theatre & Dance and is co-directed by Lawrence Edelson and Nicole Kenley-Miller. Moores Opera Center welcomes guest conductor Laura Bergquist, who has conducted on Broadway ("Allegiance"), Off-Broadway ("The Yiddish Fiddler on the Roof") and many national tours.
Lawrence Edelson, who curated this winter's theatrical performances, joined the University of Houston as artistic director of the Moores Opera Center and professor of practice in the fall of 2022. A critically acclaimed stage director, Edelson is the founder of American Lyric Theater in New York City and comes to UH following his highly successful tenure as artistic and general director of Opera Saratoga. As a stage director, Edelson's productions have been seen at Florida Grand Opera, Minnesota Opera, Fort Worth Opera, Wolf Trap Opera, Virginia Opera, Opera Santa Barbara, Hawaii Opera Theater, Michigan Opera Theater (Detroit Opera), Boston University, and Manhattan School of Music, among others.
"The Moores Opera Center season is selected each year to highlight the talents of our students and to provide them with opportunities to be exposed to diverse repertoire that embraces a wide variety of musical and theatrical styles," explains Edelson. "At the same time, our student productions provide an inexpensive way for the public to see extraordinary performances by gifted emerging artists. When you come to see an opera production at Moores, you will not only be entertained, but you will also be experiencing the future of opera. From classics to premieres, there is something for everyone in the Moores Opera Center season. We look forward to welcoming you."
DATES
Die Fledermaus (Strauss Jr./Haffner & Genée)
Jan. 26, 27 and 28 at 7:30 p.m.
Jan. 29 at 2 p.m.
Sondheim on Sondheim (Sondheim/Lapine)
Feb. 3 and 4 at 7:30 p.m.
Feb. 5 at 2 p.m.
TICKETS
General Public - $25; Staff/Faculty/Alumni - $20; Seniors and Students - $20
Contact the KGMCA Box Office at (713) 743-3388 or purchase tickets online at: https://kgmcaboxofficetheatredance.universitytickets.com/?cid=169
SONDHEIM ON SONDHEIM is presented through special arrangement with Music Theatre International (MTI). All authorized performance materials are also supplied by MTI. www.mtishows.com
---