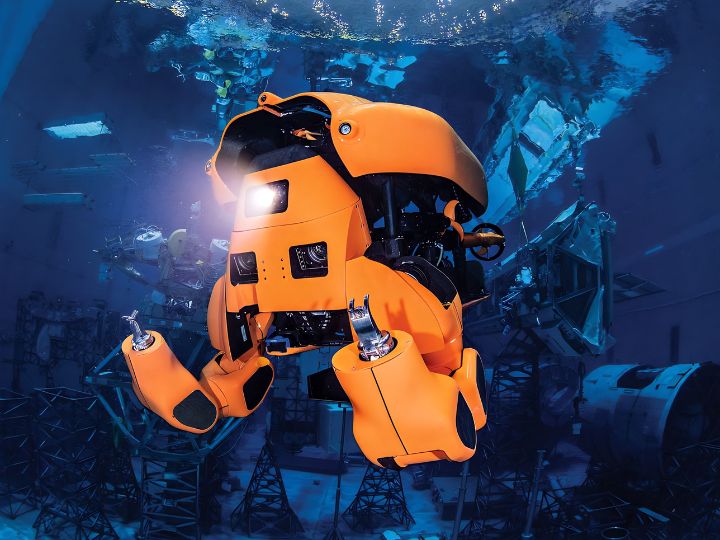 While robots are well-represented in manufacturing plants and Hollywood movies, there is also a growing demand for robotic systems in the energy industry.
The demand both onshore and offshore in the oil and gas sector, as well as renewables, is driven by the fact that robots can operate in extreme and hazardous conditions which reduces risks for humans and cuts operating costs. Months after the 2010 Deepwater Horizon disaster, for example, about a dozen large robots toiled 5,000 feet underwater to clean up the oil spill.
However, many barriers still exist that are slowing down adoption and efficient use of robotic systems. These barriers range from cost to hesitancy, because for many –managers, investors, people without robotics background and aspiring energy workers – this fast-evolving technology is only the stuff of big-screen sci-fi movies.
"A huge gap exists between the expertise of the current workforce and the dynamic growth in robotics and their capabilities," said Ramanan Krishnamoorti, vice president of energy and innovation at the University of Houston. "The workforce, now and in the future, needs to be really knowledgeable about technology – not only for optimal efficiency, but also to adapt to changing scenarios and innovate new solutions."
To address this skill gap challenge, UH's Subsea Systems Institute (SSI), in collaboration with SPRINT Robotics – an internationally recognized not-for-profit organization, has developed a four-part series of micro-credentialing courses focused on robotics. UH, located the Energy Capital of the World, is perfectly positioned to bring together all the key elements needed for an impactful industry-focused robotics course.
"Robotics systems are going to end up having a significant impact on the energy industry, so it is important to help people understand how to bring a robot from the manufacturer and integrate it into the working space," said Wenyu Zuo, SSI coordinator of the robotics curriculum. "This will ultimately accelerate the process of digital transformation of the industry."
The first course, "Robotics in Energy," – limited to 30 participants – will be offered in early May, right after the 2023 Offshore Technology Conference. Three other modules – Robotics Foundation, Automation and Autonomy, and AI & the Vision for Integration – will be offered later in the year. Each module will be offered separately, and participants will earn a badge after completion of each course. Once a participant has successfully completed all four modules, they will have earned a robotics belt signifying their learning achievement.
This educational series is funded by the U.S. Department of the Treasury through the State of Texas with funding under the Resources and Ecosystems Sustainability, Tourist Opportunities, and Revived Economies of the Gulf Coast States Act of 2012 (RESTORE Act). 
"The program focuses on upskilling and reskilling offshore energy industry personnel with robotic knowledge and skills," said Zuo, who has a Ph.D. in mechanical engineering specializing in robotics from UH. "Our goal is to have a comprehensive, offshore energy-oriented, robotic training program this year that is relevant today and in the future in the rapidly changing energy industry."
The Robotics in Energy micro-credential course is focused on safety, reliability and business impact and management. It will involve face-to-face instruction and discussion of use cases.
The course offers an opportunity for participants to gain hands-on experience and demonstration of cutting-edge robotics technologies. This includes a site tour of offshore and subsea robotics, supported by Thomas Culverhouse and Ralph Gall from Sonardyne, and Chris Roper from Saab. The robot demonstration will cover a range of topics from non-destructive testing (NDT) inspection and maintenance, led by Eddie Gutierrez and Sam Perez from Nexxis, to autonomous robots such as Spot and Elios 3, led by Chance Kirkpatrick and Ivan Meistchovich from MFE Inspection Solutions.
Attendees will gain a clear understanding of the critical issues related to safety, risk and economy involved with adoption of robots and how to analyze and evaluate these factors. They will also gain technological awareness of robotics in remote awareness, system integrity, digital transformation and artificial intelligence (AI) in the energy sector. At the end of the course, participants will be able to plan and execute a successful robotic project across various disciplines and business models.
Course participants will learn from globally renowned industry and robotics experts. Robotics in Energy presenters and sessions include:
Rami Jabari with Aramco will provide a comprehensive overview of different robotic systems and their applications in various energy sectors.
John O'Brien with itcSkills and Caroline Roberts with Astrimar will address the topic of RAMS (Reliability, Availability, Maintainability, and Safety).
Tao Cheng, Brant Cassimere of ExxonMobil, and Mauricio Calvo with Chevron will cover business topics, such as use cases, economic evaluation and qualification of robotic systems, aimed at the continued deployment of robotics to generate, maximize and maintain profit.
Xavier Quintanilla with SPRINT Robotics and Yvan Petillot with the UK-based National Robotarium will discuss the importance of collaborating with global entities and academia to lead to win-win ventures in business partnerships and technology development.
Kimberley Hayes, founder of Valkim Technologies, will discuss the evolution brought on by artificial intelligence/machine learning (AIML) and provide insights about benefiting from these emerging technologies.
The course, which involves face-to-face instruction, lunch and dinner for the first day, lunch for the second day, a networking reception and a site tour, will cost $2,000. Professional development hours and continuing education units are available. Advance registration is needed.
WHAT: Robotics in Energy Micro-Credential Course
WHO: The University of Houston Subsea Systems Institute (SSI) & SPRINT Robotics.
WHERE: Various
WHEN: 8 a.m.-7:30 p.m., Friday, May 5 and 8 a.m.-5:30 p.m., Saturday, May 6
To learn more about the event and to register, click here.
---