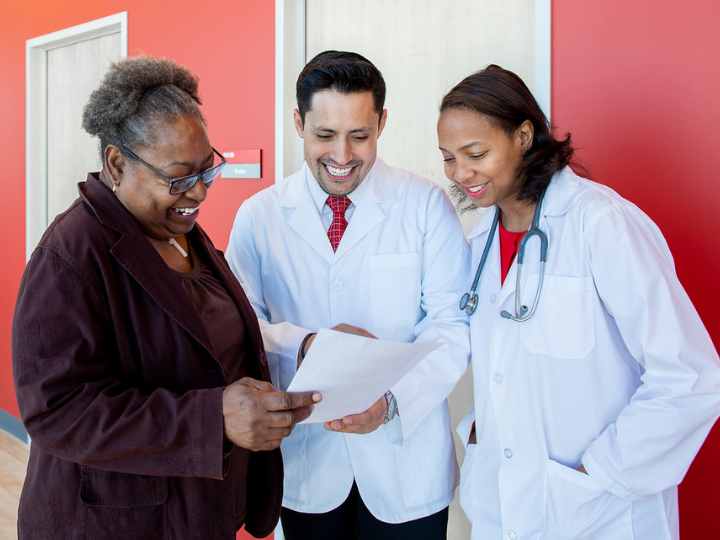 The University of Houston College of Medicine has launched its coordinated care network, aimed at helping families who are facing significant health disparities efficiently access health care and resources, while giving students hands-on experience in underserved communities. 
Delivered through the Unite Us Platform as part of the statewide network, Unite Texas, the network of social services and medical providers will seamlessly make electronic referrals for participants of the medical school's Household-Centered Care program. Household-Centered Care connects interprofessional teams of community health workers, students and faculty in the disciplines of medicine, nursing and social work with families in Houston's Third Ward and East End to provide care coordination and overall health promotion.
By focusing on the societal factors that impact health such as the environment, housing, employment and food insecurity – known as social determinants of health – the goal is to improve the wellbeing of the community, according to Dr. Stephen Spann, founding dean of the UH College of Medicine. 
Nearly a quarter of Harris County residents are uninsured, and Texas is facing a severe shortage of primary care doctors, further limiting access to vital preventive care such as vaccinations and mammograms.
"One of the core missions of the University of Houston is improving the health of the community, and social determinants of health are central to this mission. Harris County falls short on numerous factors that drive health and health equity, including access to care," said Spann. "Household-Centered Care is a partnership with the community, our students and community health workers that will help struggling families receive coordinated care to improve their lives."
Through the Unite Us Platform, the medical school will build and scale its coordinated care network with the ability to track outcomes, identify service gaps and at-risk populations, and most importantly, empower community members to take ownership of their own health.
"This is the first time that Unite Us is partnering specifically with a medical school and we're very excited to be a part of this groundbreaking work in Houston," said Shelley MacAllister, account manager for Unite Us. "Through this network, participants only have to share their story once, and providers work together electronically to send and receive referrals on their behalf.  Participants can opt in to receive notifications by text or email so they can follow along, too."
Less than 20% of health outcomes are based on the medical care patients receive, leaving more than 80% shaped by genetics and social determinants of health. Dr. Donald Briscoe, a family physician and director of longitudinal primary care at the UH College of Medicine, says the ability to track participants across service organizations will break down silos, ensuring no one is left behind.  
"We are embracing the 'no wrong door' approach because once you're in the Unite Us system, you're linked to every other available resource," said Briscoe. "Being able to efficiently help people link to necessary services has the potential to have a much greater impact on overall health than anything we do in an examination room."
"This program is unique for first year medical students who typically just hit the books, but this allows them to get on the streets to see firsthand what the issues are in a very tangible way," said Dr. David Buck, associate dean for community health at the UH College of Medicine. "This helps our students see that practicing medicine isn't enough to impact health, so they need to get out of their classrooms and into the community."
Families and community organizations are currently being recruited to participate in the program. There are 30 students in the College of Medicine's inaugural class, and each will be assigned a household, along with the rest of the Healthy Connections (Conexiones Saludable) team. The COVID-19 pandemic has restricted the scope of interaction thus far, with the curriculum limited to virtual class projects and simulations. Once conditions allow, the teams will make consistent in-home visits each semester. 
Nabeel Ahmad, a former inner-city Houston biology and chemistry teacher turned UH medical student, says being involved in the Household-Centered Care program with UH students from other health professions highlights the importance of being a team player.
"It shifts the mindset from 'I' to 'we' as we work together to tackle an illness and promote wellness for the patient and their family," he said. "I am learning how to work with other equally important players on the team, especially social work and community health care professionals, to uproot the underlying factors contributing to the disease and/or illness."
Critical to each team are community health workers who are trained members of the communities in which the medical school aims to serve. The CHWs, most trained and certified through the UH Honors College CHW Initiative, serve as a bridge between the University and the community by providing information, education, connections and overall health promotion.
As a child, Joshua Lopez-Barrios immigrated from Guatemala with his family in pursuit of the American dream. With little money and no health insurance, he recalls how community health workers at his church connected his family with available services. Now, as a certified CHW himself and part of the UH Healthy Connections team, Lopez-Barrios is on a mission to give back to the East End.  
"We need to build trust between the program and our participants. As a CHW, I can work with them to build that trust because the East End is my home and these are my neighbors.  We will work on a plan to improve their understanding of the health system and how to use it in a more efficient way," he said. 
Once conditions in the city allow, the teams will work out of two hubs: The Royal Palm Apartments in Third Ward and Tejano Center in the East End.
Third Ward and East End residents interested in participating in the Household-Centered Care program can learn more here. For social service organizations or medical providers interested in joining the coordinated care network, click here to learn more.
---