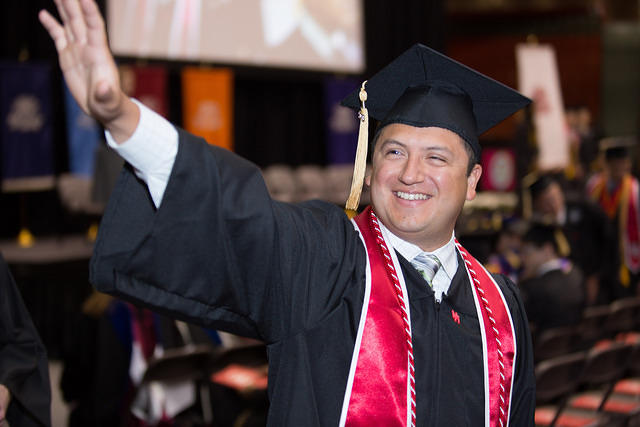 As more than 8,000 University of Houston students prepare to receive their degrees May 12, they have a few more reasons to be confident in the education they have received and the opportunities that await them. UH recently received national recognition from two different publications for its value and the experiential learning opportunities it offers students. UH is among the Princeton Review's "Colleges that Create Futures: 50 Schools that Launch Careers by Going Beyond the Classroom," and the Forbes' "Top 300 Best Value Colleges."
Out of nearly 1,000 colleges that The Princeton Review considered for its latest book, the 50 schools that made the cut comprise only about 2 percent of the nation's approximately 3,000 four-year colleges. Using survey data from administrators and students between 2015 and 2017, editors weighed information about the colleges' career center services, internship, externship, cooperative learning and collaborative research opportunities, and student engagement in community service and study abroad programs. The University of Houston and University of Texas at Austin were the only two public institutions in Texas to make the list, joining Rice and Trinity University.
"The University of Houston and the other colleges showcased in this book offer superb academics," said author Robert Franek, senior VP-publisher at The Princeton Review. "But what makes them stand out are the programs and services they offer outside the classroom which offer their students real-world experience, collaborative opportunities with faculty and networking opportunities with alumni, allowing them to graduate with outstanding job opportunities or acceptance to post-graduate studies at first-rate institutions."
The Princeton Review cites the starting median salary for UH grads (at least a Bachelor's degree) at $51,600 and mid-career median salaries at $85,700. UH prepares its students "for a long term successful life in the career of their choosing," a UH student told The Princeton Review in the University's profile. "Opportunities are bountiful at UH."
The Forbes 2017 Best Value College rankings also analyzed schools for the return on the investment provided to graduates. It indexed 300 schools "that deliver the best bang for the tuition buck" using data from the U.S. Department of Education and the salary database PayScale. It looked at factors such as tuition costs, school quality, post-grad earnings, student debt and graduation success. UH ranked No. 213, putting it in the top 7 percent in the country. UH is also ranked in Forbes' lists of "Top College," "Top Public Colleges," and "Top Research Universities."
---