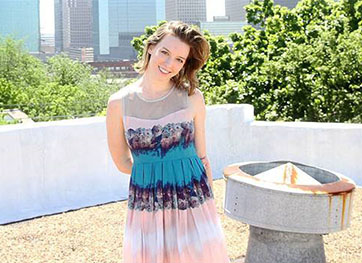 Two University of Houston graduate students are helping to elevate Houston's arts and culture reputation by embarking on careers that contribute to the city's $26 billion creative economy. Both are graduate candidates of the Master of Arts in Arts Leadership (MAAL) program at the Kathrine G. McGovern College of the Arts, the only such program in the region.
The Students
Alexandra Di Nunzio, a trained dancer, is development operations manager for the Houston Ballet. Di Nunzio supports the fundraising team and raises money for the organization.
Jordon Nickerson, a classically trained violinist, is operations manager at the Houston Youth Symphony. Nickerson oversees the day-to-day details of the main orchestra programs and 400 musicians weekly.
"We all see the University of Houston as 'the city's university' and we are creating the next wave of art leaders who are going to populate our institutions and change the city," said Fleurette Fernando, director of the MAAL program.
Impact on Houston Arts Industry
Di Nunzio is one of at least four MAAL students who work at the Houston Ballet and that's not a coincidence. Students take advantage of the networking opportunities the program provides and are better versed than most job candidates. 
"They have a broad view of the different components of what goes into arts management such as fundraising, marketing, strategic planning – what it takes to run a non-profit," said Houston Ballet Executive Director Jim Nelson. "I applaud UH for developing this program which is showing success so quickly."
Sarah Duck Loudermilk, Houston Youth Symphony executive director agrees. Aside from the fact that Jordon Nickerson is in this master's program, Loudermilk brought him on for his desire to transition to management and because of his experience playing in orchestras.
"To have UH helping Houston generate new leaders is huge," said Loudermilk. "In my years of working in the arts industry, there wasn't a 'go to resource' when you needed to hire somebody. Now we have that in this UH master's program."
As Nickerson and Di Nunzio prepare to graduate this spring, they are finding that balance between their creative and business interests.  
"My goal for my career is to never lose sight of that creative spark that made me want to pick up a violin in the first place," said Nickerson, who hopes to someday run his own record label.
After earning a bachelor's degree in dance from UH, Di Nunzio struggled to land a job in the arts that fueled her creativity and interest in community impact. She says going back to school for her master's degree put her on the right path.
"I would not have found my job at Houston Ballet without this program," she said. "It's about leadership, networking and being able to stir the pot in Houston's arts community in the most wonderful way."
How MAAL Prepares Students to Contribute to Houston's Creative Economy
MAAL offers core classes that focus on financial management, public administration, fundraising, marketing, strategic planning, public relations and entrepreneurship in the arts.
Leaders who work in Houston's Arts community teach the courses.
The coursework uses the city as a "learning laboratory" giving students hands-on opportunities in the Houston arts industry.
 "We want them to not only manage what's out there, but also create a new presence for organizations and new initiatives in some form that can continue and grow to support the arts in Houston," said Andrew Davis, interim dean of the McGovern College of the Arts. "It's our responsibility."
The application deadline for Fall Semester is May 1.  Click here to learn more.
Contact UH Media Relations to arrange interviews with MAAL or its students.
---