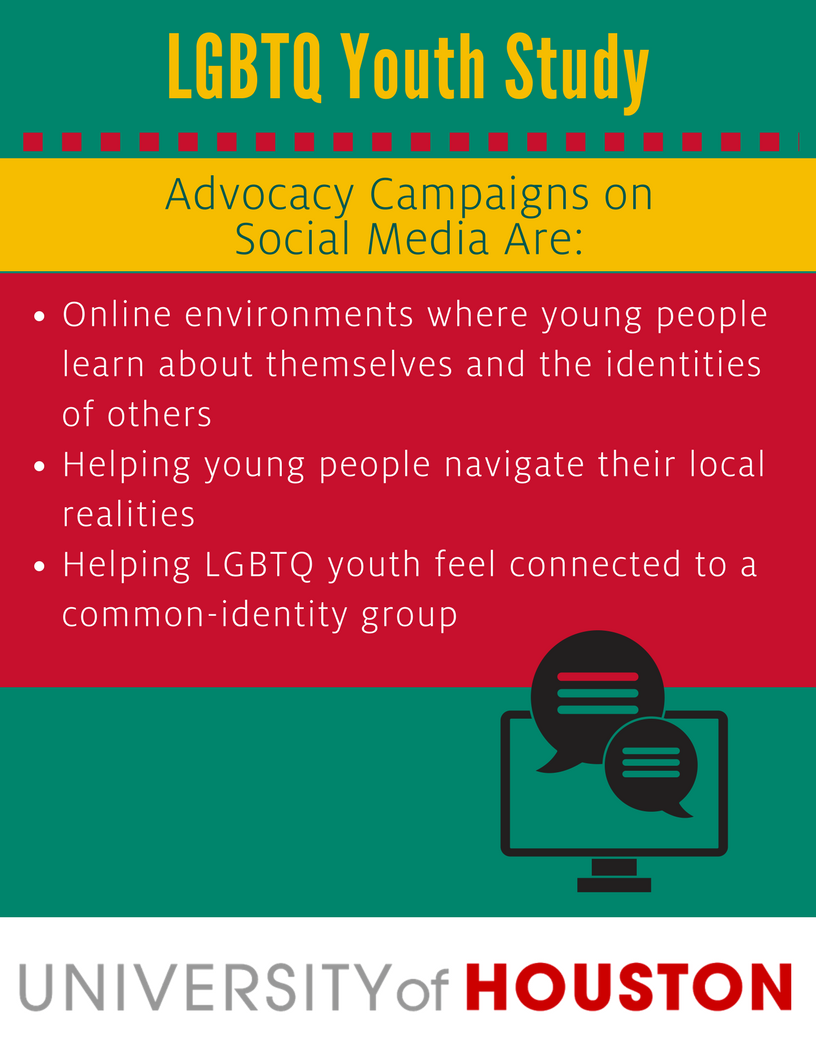 Social media platforms aimed at advocacy for marginalized groups—those who may face layers of discrimination— provide spaces for introspection, reflection and self-discovery that may diminish negative consequences, such as suicides and social anxiety, that often result from marginalized youth having no place to turn.
Those are among the key findings of a research study by Erica Ciszek, assistant professor at the University of Houston Jack J. Valenti School of Communication. The study, published in the Journal of Homosexuality, specifically looks at the role advocacy campaigns play in sexual identity development among LGBTQ (lesbian, gay, bisexual, transgender and queer) youth.
"Historically, communicating with LGBTQ young people has been really challenging. Social media provides unprecedented ways of connecting with youth," Ciszek said.
As a gay teenager, Jay Franzone dealt with bullying and ridicule from his peers. He found an outlet by connecting with LGBTQ communities on social media, and a whole new world opened up for him- one that gave him confidence and comfort. Franzone is one of two-dozen participants in the study.
"At the time, I saw social media as the only place where other young LGBTQ people could meet each other. It's where and how they communicated because it was the only place they could," he said.
Ciszek took an unconventional approach to her research, carrying out chat-based interviews on Facebook and Google with LGBTQ youth ages 13-28 who varied in race, ethnicity, socioeconomic class and geographical location.
The results show advocacy campaigns:
Function as rich experiential information environments that can serve as social sites where young people learn about themselves and the identities of others;
Help young people to navigate their local realities through content that can supplement their lived realities;
Help LGBTQ youth feel connected to a common-identity group when sexual orientation or gender identity is most important in their lives.
"This research sheds light on existing issues such as communicating with young people in particularly marginalized populations like LGBTQ youth," Ciszek said. "Findings highlight the complexity of these populations and shed light on the role social media and new technologies can play in advocacy efforts."
Franzone says participating in the study allowed him to reflect on how vital social media was for him, and how he could become an advocate himself for the LGBTQ community. He's currently the national communications director for the National Gay Blood Drive and is a middle school teacher.
"It made me think about what I could do for 15-year-old me. What can I do in a way that's going to help people? This has stuck with me."
---