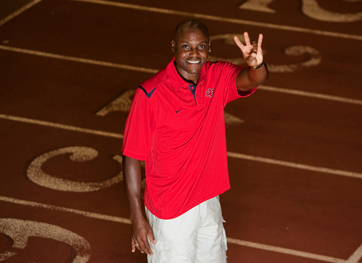 Taste of the NFL – a premier Super Bowl fundraiser dedicated to hunger relief – has announced that University of Houston alumnus and 10-time Olympic medalist Carl Lewis will join the 26th Annual Party with a Purpose® as the UH Honorary Host.
Lewis will be joined at the event by Culinary Hosts Richard Blais, Alex Guarnaschelli and Andrew Zimmern, in celebration of food, football and philanthropy. This highly anticipated "party-of-the-year" will take place on Super Bowl Eve, Saturday, February 4, at the University of Houston. He has been lauded as one of the greatest track and field athletes in the world, with achievements including nine Gold Olympic medals, one Silver Olympic medal and 10 World Outdoor Championship medals.
He first qualified for the U.S. Olympic team as a freshman at UH. Now, Sports Illustrated's "Olympian of the Century" has returned to his alma mater, as UH's Track & Field Assistant Coach. Serving as UH Honorary Host of Party with a Purpose® is yet another instance of Lewis' commitment to public service.
The star-studded Party with a Purpose® celebrates two of America's favorite pastimes, pairing extraordinary chefs from the 32 NFL cities together with current, Hall of Fame and alumni players from each NFL franchise, celebrities and more, serving over 45,000 tastings for 2,500 guests to support the fight against hunger.
Since its inception in 1992, Taste of the NFL has raised and donated over $25 million to food banks and nonprofit organizations in each of the 32 NFL cities, resulting in excess of 200 million meals for Americans. One-hundred percent of the proceeds generated from the Kick Hunger Challenge and the Party with a Purpose® goes directly back to each team's hometown community.
For more information, visit TasteoftheNFL.com. Event tickets are available for purchase here. 
---