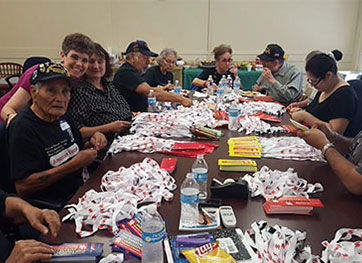 Job ranking reports consistently show the top-paying degrees are found in science, technology, engineering and math (STEM), providing a springboard for some of the most versatile and important careers in our country.
In collaboration with the Gathering of Eagles, a 501(c)3 veterans organization with a mission to inspire and motivate youth in STEM, the University of Houston STEM Center and Bauer College of Business are hosting a symposium this Saturday, Nov. 5 to open the world of STEM to more than 500 middle and high school students from the Houston Independent School District (HISD).
The Gathering of Eagles 2016 STEM Symposium provides a platform for HISD students in grades six through 12 to connect with industry STEM leaders, as well as experience and learn what the University of Houston offers in its STEM programs. In the 30 sessions offered from 9:30 a.m. to 12:20 p.m., students will have an opportunity to attend a variety of interactive STEM presentations. Among them are a look behind the scenes into the manufacturing realm of HISD nutrition services to see what it takes to feed the district in one day, learning from NASA engineers how to design and create space hardware, and hear from professionals in the Coast Guard, maritime industry and health care professions.
The sessions are carefully chosen to be aligned with a STEM career and individuals who have a passion to teach and promote the opportunities found in STEM. Students will be able to network with the presenters, who include retired and active-duty veterans, civilian professionals in the public sector, and representatives from UH and Houston Community College. The goal is to make the students aware of the vast prospects within STEM fields and assist them with navigating their educational path in those areas successfully.
"Motivating students to participate in the study of STEM will ultimately give them the confidence to obtain the skills needed to compete in a global market successfully despite socioeconomic challenges," said Heather Domjan, interim executive director of the UH STEM Center. "We fully understand the need for students to be completely engaged, so the focus of the symposium is to have students network and make connections that are inquiry based with a hands-on, minds-on approach."
Students will be attending from Baylor College of Medicine Academy, McReynolds Middle School, Stevenson Middle School, Deady Middle School, Navarro Middle School, Chavez High School, Austin High School, RYSS Charter School, KIPP and Upward Bound.
WHAT:
Gathering of Eagles STEM Symposium
WHEN:
8 a.m. to 1 p.m., Saturday, Nov. 5
Best visuals will be during the 30 educational sessions from 9:30 a.m. to 12:20 p.m.
WHERE:
University of Houston
Science & Engineering Classroom Building
3487 Cullen Blvd., Entrance 14
Map:
http://www.uh.edu/maps/buildings/?short_name=SEC
###
Link:
http://www.uh.edu/news-events/stories/2016/November/110416EaglesSTEM.php
Twitter handles: @UH_STEM_Center * @GOEHouston * @UHBauerCollege * @UHouston * @UH_NewsFacebook pages: UH STEM Center * UH Bauer College of Business * University of Houston * Houston Independent School DistrictHashtags: #STEM #education
---