It was a whirlwind year for first-year Cougar football coach Tom Herman. He transformed the University of Houston football team into a nationally-ranked powerhouse and helped create the #HTownTakeOver buzz throughout the city. Now, he's helping UH's Jack J. Valenti School of Communication prepare the next generation of sports journalists while raising funds for its classrooms.
Houstonians can spend "An Evening with Coach Tom Herman" on May 26 at The Wynden (1025 S. Post Oak Lane). The event, a fundraiser for the Valenti School, begins at 4:30 p.m. A conversation with Herman (including Q&A with audience members) will kick off at 5 p.m.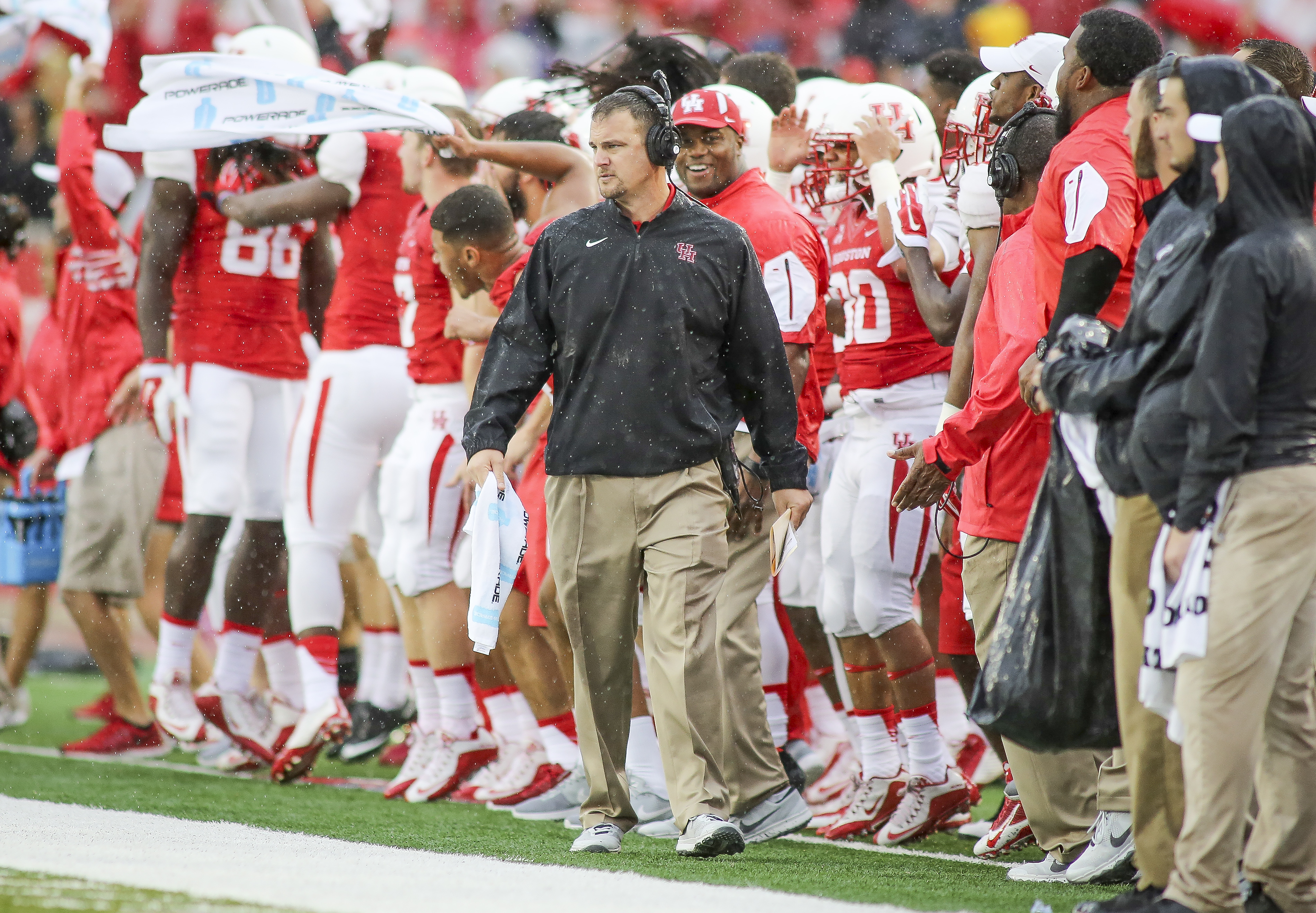 Tickets – $100 for individuals and $150 per couple – can be purchased online.
Proceeds will benefit classroom renovations in the Valenti School. The event will also be an important step in the planning of the new Center for Sports Media. The center partners the school with UH Athletics in a new initiative to promote Cougar sports while training future media professionals.
The Valenti School will deliver its first sports courses in the fall, said Valenti School interim director Temple Northup. Its initial offerings include courses in sports reporting and media production. Additional classes will be available in spring 2017.
"The production class will assist producing live and taped Athletics events and shows to air on network TV," he said. "These students will be behind the camera and working behind the scenes on this program."
The center will focus on providing students with the journalistic and technical skills required for sports media careers, as well as strategic insight to guide them in sports marketing and public relations positions. One of the goals behind the center, Northup said, is for Valenti students to begin covering and broadcasting Cougar sports. Another objective is enhanced academic research focused on sports communication issues such as the impact of social media on teams' fan bases, players and other constituents.
"We're in a major sports market. Many colleges don't have the benefit of being in a city with professional football, baseball, basketball and soccer teams," Northup said. "In addition to UH Athletics, there are many potential partners and opportunities in the community. And the school has produced some major names in sports journalism including Jim Nantz and Rockets announcer Bill Worrell. It's a good fit for the school and our students."
Herman was hired by UH in 2014 and in 2015, he led the Cougars to the American Athletic Conference title and a Chick-fil-A Peach Bowl victory. Under his guidance, the team concluded its season with No. 8 ranking in the Associated Press and Coaches polls, its highest placement since 1979. Prior to arriving at UH, Herman served as the offensive coordinator with the Ohio State University Buckeyes and helped guide the 2014 team to a national championship.
"An Evening with Tom Herman" is sponsored by Masraff's and Pierpont Communications. For more details on this event, visit the Valenti School's events website.
---