Luis R. Torres, who has served as professor and researcher for the University of Houston Graduate College of Social Work for 8 years, now becomes the college's Associate Dean for Research and Strategic Partnerships. Torres also will become the new director of the college's Center for Drug and Social Policy Research. The change is effective March 1.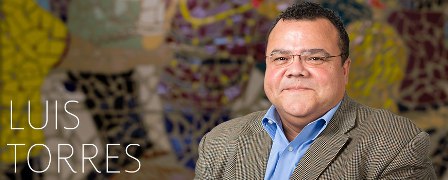 "This is a crucial position in our college, particularly at a time when we are growing and strengthening our faculty," said Alan Dettlaff, dean of the Graduate College of Social Work. "Luis already has done much to build the research capacity of our faculty and our college, and in this role, he will continue to build on these accomplishments." Torres replaces Professor Patrick Bordnick, who is leaving to become dean of Tulane University's School of Social Work.
The Associate Dean for Research and Strategic Partnerships is responsible for building the research capacity of the faculty, assisting the faculty in identifying external funding to support their research, and developing the strategies necessary to strengthen the research infrastructure of the college. In addition to these responsibilities, Torres will be responsible for developing community partnerships and strengthening collaborative research opportunities.
The Center for Drug and Social Policy Research promotes innovative, interdisciplinary research on substance abuse and its related issues, while contributing to the development of relevant public policy.    
"Under Dr. Bordnick's leadership, the college increased the number of grants being submitted, the number of grants funded, and the number of community research partnerships," Torres said. "New faculty have the desire to become independent researchers and contribute knowledge and solutions to many of our society's challenges, from child welfare and civic engagement, to health, mental health and substance use. That requires infrastructure and leadership."
Torres has received numerous federal grants, including $1.8 million from the Department of Health and Human Services'(DHHS) Substance Abuse and Mental Health Services Administration to create the SMART Cougars Program, a partnership with the college and two community agencies, Houston Area Community Services Inc. (a Federally Qualified Healthcare Center) and Change Happens. SMART Cougars works with minority youth at risk of contracting HIV/AIDS and Hepatitis C. He also is part of a $3.4 million grant from the Department of Homeland Security to create the UH Center of Excellence for Borders, Trade, and Immigration Research, where he serves as the lead for Policy and Transition. Torres and Associate Professor Sheara Jennings Williams also are the co-lead evaluators of AVANCE—Houston's $10 million Healthy Marriage and Relationship Education Program, funded by DHHS. He also sits on the UH Faculty Senate Health Professions committee and the Substance Abuse Prevention committee.
"Luis is particularly well-suited to this responsibility, and I am very excited to see all that we will accomplish as a college under his leadership," Dettlaff said. 
---