This weekend, the Houston Livestock Show and Rodeo (HLSR) kicks off its 2016 festivities. The annual Downtown Rodeo Parade is among the city's grandest traditions. Among the marching bands, horse-drawn wagons, cowboys and cowgirls will be some very enthusiastic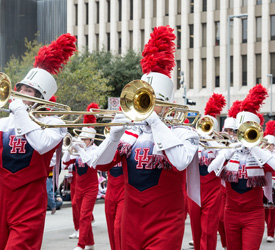 Cougars.
The University of Houston has long maintained a strong presence during this popular parade, but this year, the event will place an even bigger spotlight on the Cougar community.
Tom Herman, UH head football coach, will serve as the parade's Grand Marshal. Herman, who guided the Coogs to the Chick-Fil-A Peach Bowl Championship and a No. 8 national ranking, will lead the procession on horseback.
Following Herman will be more winning Coogs including the students who earned HLSR Scholarships. These talented scholars will greet the parade spectators from the HLSR float. Scholarship recipients are as follows: Daisy Montes de Orca, Veronica Campos, Thao Nguyen, Merline Gonzalez, Micah Arel, Kayla Washington, Karina Padilla, Andrew Moreno, Kyle Allen Knight, Leen Basharat, Lisa Forger and Oscar Leija.
University dignitaries will show their Cougar pride from aboard the official UH float. Alumni, administrators, current students (including Student Government Association President Shaun Theriot-Smith) and friends of the University will ride in style on a float bearing a lifelike replica of the Cougar mascot, Shasta.
UH President Renu Khator and Suresh Khator, associate dean in the UH Cullen College of Engineering, also will be on hand to spread Cougar Pride. They will ride in a white carriage alongside Tammy Cowley, wife of HLSR  President and CEO Joel Cowley.
Other University representatives include the award-winning UH's Army and Air Force ROTC cadets who will proudly display the nation's and state's colors. 
And no Downtown Rodeo Parade would be complete without a performance from UH's Spirit of Houston Marching Band. The popular ensemble will be joined by UH's cheerleaders and Cougar Dolls dance team. Mascots Shasta and Sasha will join UH's spirit team as it entertains fans.
The parade kicks off at Bagby and Walker streets and concludes at Lamar and Bagby streets. To view a map of the route, visit the parade's website.
The Downtown Rodeo Parade isn't UH's only opportunity to participate in one of the city's most storied events. UH Night at the Rodeo is March 7 and will feature University dignitaries leading the grand entry into the rodeo grounds at NRG Stadium.
The University of Houston is a Carnegie-designated Tier One public research university recognized by The Princeton Review as one of the nation's best colleges for undergraduate education. UH serves the globally competitive Houston and Gulf Coast region by providing world-class faculty, experiential learning and strategic industry partnerships. Located in the nation's fourth-largest city, UH serves more than 42,700 students in the most ethnically and culturally diverse region in the country.
---