Community activists and political leaders know that to make an impact you have to get in the trenches. To learn the ropes, you don't need a manual. You need a boot camp.
The University of Houston Hobby Center for Public Policy (HCPP) is hosting a "Civic Engagement Boot Camp," a one-day workshop designed to teach the skills necessary to create positive change. The event will be held from 10 a.m. to 3 p.m., Friday April 22 in room 122 of McElhinney Hall. There is no charge to attend, but seating is limited. Pre-register by emailing name, phone number and email address to Scott Mason at smason@uh.edu. Write "CEBC" in the subject line.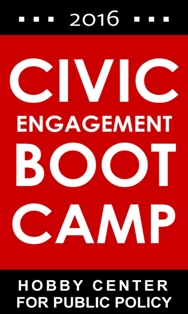 Workshops focus on understanding governmental processes, acknowledging multiple perspectives, building collaborations, developing representation on boards, committees and other organizations, and using new and traditional media.
Former U.S. Rep. Bill Sarpalius will speak to participants. He represented the state's 13th congressional district from 1989 to 1995. Today he is a lobbyist and the CEO of Advantage Associates, a Washington consulting firm that is comprised of former elected officials. He'll discuss his rise from abandonment as a child to graduation from college to successful political campaigns in the Texas Senate and U.S. House of Representatives.
"The Hobby Center for Public Policy is fortunate to have Congressman Sarpalius as the speaker for our next civic engagement boot camp. His personal story is inspiring and his expertise in both government and the private sector will be of great benefit to all of the participants," said Renée Cross, associate director of the Hobby Center for Public Policy. 
For more information, visit http://www.uh.edu/class/hcpp/community/cebc/.
WHAT: Hobby Center for Public Policy "Civic Engagement Boot Camp"
WHEN: 10 a.m. to 3 p.m., Friday April 22
WHERE: University of Houston, McElhinney Hall, room 122
---