Storytelling has evolved beyond putting words to paper. Images are equally important in telling tales. When words and pictures are combined, readers further connect with characters and are transported to new or familiar worlds.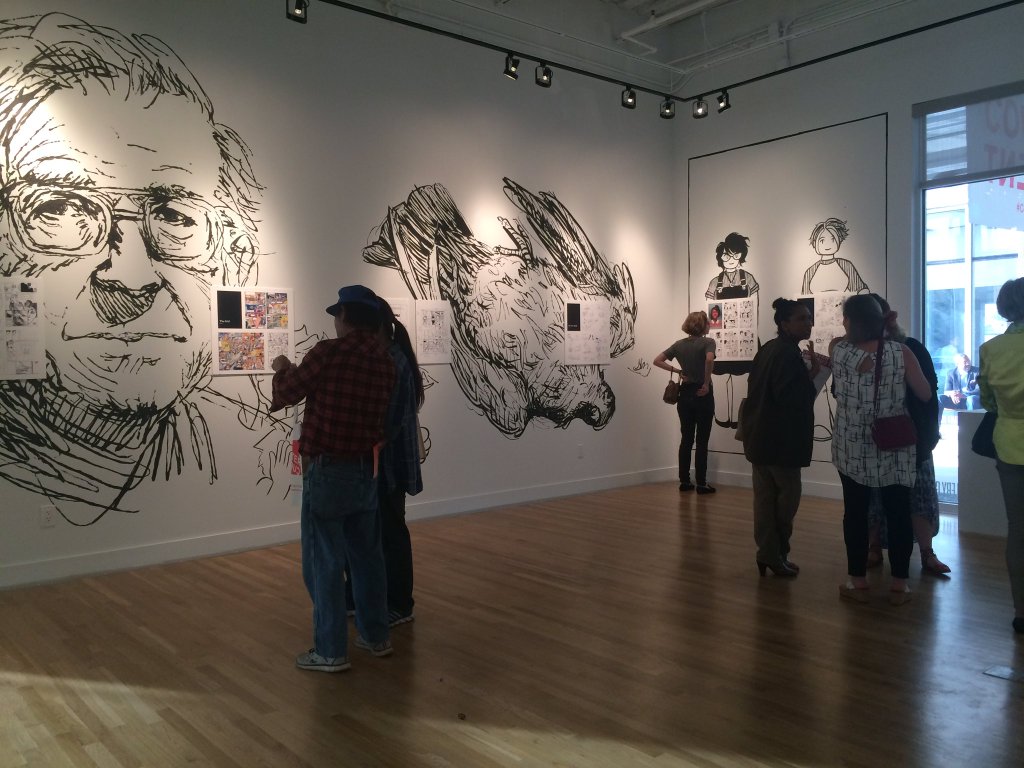 This semester, a class of University of Houston students is learning the fine art of visual storytelling from a pair of University of Houston professors who are well acquainted with the craft. English professor and graphic novelist Mat Johnson and art professor Michael Ray Charles teamed up this semester to guide UH's Graphic Novel Workshop. The biannual class is offered through the Cynthia Woods Mitchell Center for the Arts' Interdisciplinary Arts (IART) minor, which brings together students from various creative disciplines to collaborate on projects.
This semester, students have worked independently or collaborated with each other on illustrated stories. Both Johnson and Charles, Hugh Roy and Lillie Cranz Cullen Distinguished Professor of Painting, have lent their respective insights to the students as they effectively write and illustrate these pieces.
Houstonians can catch a glimpse of these students' work at the Mitdown Arts and Theater Center Houston (MATCH) this week during the CounterCurrent Festival, which is produced by the Mitchell Center. "Sequence: Graphic Storytelling" runs through April 17 at the MATCH (3400 Main St). Completed works will be published in a book that will be sold at Brazos Bookstore.
"We're seeing some very good work from this class," Charles said. "A group of students in this class already had been developing work before the first day of class. They were very self-guided and determined. It's very rewarding to see students with this kind of passion."
This year is Charles' first year co-teaching the workshop with Johnson, who helmed the previous two classes. Like his teaching partner, Charles had an affinity for comics long before this class. In class, Charles offers perspective on the influence of cinematic images on contemporary graphic novels.
"There is a divergent route that's happened with comics and graphic novels," he said. "What started with Sunday comics has grown into a completely different entity. The dramatic shift in visual imagery and meaning is heavily influenced by German expressionists who influenced German films. The use of montage, for example. And how film has evolved to use different camera angles and lighting techniques."
Both Johnson and Charles also spotlight graphic novel pioneers, including Lynn Ward ("God's Man"), Will Eisner ("The Spirit," "A Contract with God") and Winsor McCay ("Little Nemo in Slumberland").
Among the works produced during the workshop is Jiwei Saw's "Jam Quest," a fantasy tale, drawn Anime style, about a man's search for jam for his friend's bread. Saw wrote and drew this piece. He said that insights from Johnson and Charles opened his mind to new ways of sharing visual stories.
"Professor Johnson helped me see beyond the basic story of 'Jam Quest,'" Saw said. "He suggested that I look at it metaphorically. Maybe it's about a relationship and how both partners are never satisfied. I learned a lot from that. Professor Charles offered advice on laying out the panels and using lines to entice the reader."
His classmate Isaiah Althouse wrote and drew an untitled story about an elementary school student who escapes into a fantasy world while her personal reality deteriorates. He appreciates both instructors' guidance developing visually compelling stories. Exploring art forms outside of comics was particularly helpful in the development of his piece.
"When the class started, we didn't even look at comics. We examined film noir and how light affected shots," he said. "That was very helpful."
Patrons can meet Saw, Althouse and their classmates during a reception at 7 p.m., April 14 at the MATCH. Their professors also will be in attendance. For more details on this exhibition and the Graphic Novel Workshop, visit the CounterCurrent website.
---