Susan Rogers' students aren't confined to a classroom to learn about architecture and urban design. Instead, she takes them into Houston's diverse communities to meet residents and discover firsthand how to make a difference in the city.
Rogers' efforts have earned praise from colleagues, students and community members. Recently, they also were acknowledged by the American Institute of Architecture's (AIA) Houston chapter.  Rogers, an associate professor in the University of Houston's Gerald D. Hines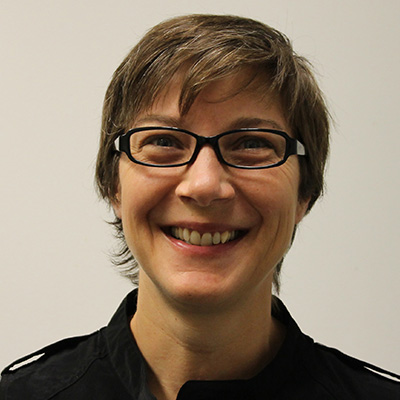 College of Architecture, was named AIA Houston's Educator of the Year. She is the third UH professor to earn this honor in the past three years.
Rogers, who joined UH's faculty in 2004, directs UH's Community Design Resource Center, which partners with Houstonians to develop strategies for areas in need of revitalization. The center's Collaborative Community Design Initiative focuses on Houston neighborhoods in need and proposes design solutions to benefit residents. Proposed CCDI solutions have included creating pedestrian paths and bridges and incorporating functional programming and housing in public spaces.
"I think that for the University of Houston … it reflects our commitment to community engagement and community outreach," Rogers said. "I think having real community partners and being able to talk to people and to understand the challenges and the strengths changes students' relationship to how design can actually be used as a tool for change."
Recently, Rogers' students have worked with Olivet Missionary Baptist Church on Lyons Avenue to design new affordable housing and a pop-up library on a vacant lot; proposed designs for development along Baytown's waterfront; and proposed healthy design solutions for Houston neighborhoods. With regard to the latter, Rogers' students are now teaming with Rice University and non-profit organization Recipe for Success to design Hope Farms, an urban farm in Houston's Sunnyside neighborhood.
Rogers and students also host events that bring community members together to brainstorm new visions for their respective neighborhoods. Through her work with the Collaborative Community Design Initiative (CCDI), she documents the challenges faced by local communities and offers prospective solutions. CCDI books include "Corridors" (focused on Greater Third Ward, Harrisbug/Manchester, Independence Heights and Greater Heights), "Islands" (Alief, Golfcrest/Bellfort/Reveille, Greenspoint and Mid-West) and "Hearts" (Denver Harbor, Fifth Ward, Magnolia Park and Sunnyside).
In addition to sharing her insights in the classroom, Rogers has presented her research on design and health at the "American Institute of Architects Value of Design: Design and Health" summit in Washington D.C., at the Association of Collegiate Architecture Schools National Conference in Miami, and at the international conference of the Association of Collegiate Schools of Architecture in Seoul, South Korea.
Rogers follows in the footsteps of previous AIA Educators of the Year from UH's Gerald D. Hines College of Architecture. Professor Patrick Peters earned this honor in 2013, and colleague Thomas Colbert (who recently passed away) received this distinction in 2014.
---