Robert Steven Kaplan is a well-respected figure in the worlds of business, economics and finance. The veteran scholar and business leader recently took the reins as president of the Federal Reserve Bank of Dallas. Soon, he'll visit the University of Houston to deliver his first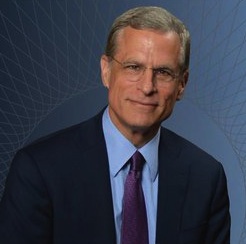 major public speech since assuming this role.
Kaplan will present "A Discussion on Economic Conditions and Federal Reserve Policy" at 11 a.m., Nov. 18 in UH's Student Center Theater (Room 103 – Student Center South). This free event is open to the UH community and the public. To RSVP, contact Tonja Jones at tajones@uh.edu. Members of the media can contact Mike Emery at pemery@uh.edu.
The Dallas Fed is among 12 regional Reserve Banks in the Federal Reserve System. It serves the 11th District, which includes Texas, northern Louisiana and southern New Mexico.
Kaplan is no stranger to the University of Houston. As president of the Dallas Fed, he works closely with UH President Renu Khator, who chairs the bank's board of directors. In addition to his lecture on campus, Kaplan will engage with faculty members, members of the UH Energy Advisory Board and other University leaders.
"In his first two months on the job, Robert Kaplan has established himself as a strong leader in the 11th District and a strong voice at the national level," said UH President Renu Khator.  "His timely appearance at UH and the economic insights he provides will inspire and inform our students and researchers alike." 

Kaplan was appointed as the president of the Federal Reserve Bank in Dallas in August. He previously served as the Martin Marshall Professor of Management Practice and a senior associate dean at Harvard Business School. Prior to his time at Harvard, Kaplan was vice chairman of The Goldman Sachs Group, Inc.. With Goldman Sachs, he co-headed the Investment Banking Division; served on the Management Committee; co-chaired the Partnership Committee; and chaired the Goldman Sachs Pine Street Leadership Program. Kaplan also co-chaired the Draper Richards Kaplan Foundation, a global venture philanthropy firm that invests in developing non-profit enterprises dedicated to social issues.
Kaplan has authored a number of books including "What You Really Need to Lead: The Power of Thinking and Acting Like an Owner," " What You're Really Meant To Do: A Road Map for Reaching Your Unique Potential" and "What to Ask the Person in the Mirror: Critical Questions for Becoming a More Effective Leader and Reaching Your Potential."
For more details on Kaplan and the Dallas Fed, visit the bank's website.
Who: Robert Steven Kaplan, president of the Federal Reserve Bank of Dallas
What: Lecture – "A Discussion on Economic Conditions and Federal Reserve Policy"
When: 11 a.m., Nov. 18
Where: UH Student Center Theater – Room 103 (Student Center South). Parking is available at the UH Welcome Center across the street. Both buildings are accessible at UH's Entrance 1 off Calhoun Road. Visit this site for a map and directions.
Note to media: Kaplan will host a media availability at noon in Room 224 (Heights Room) in the Student Center South. Contact Mike Emery at pemery@uh.edu for further details.
---