What began as a typical evening at home with her family became a night to remember for University of Houston faculty/staff member and alumna Lacy M. Johnson.
Johnson, Director of Academic Initiatives at UH's Cynthia Woods Mitchell Center for the Arts, was in her dining room trying to encourage her young son to eat his vegetables. That effort was interrupted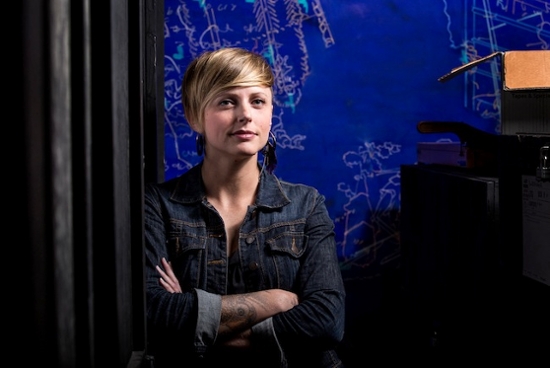 by her cell phone's constant buzzing. When Johnson checked to see who was trying to reach her, she learned that she was a finalist for the prestigious National Book Critics Circle (NBCC) Awards.
Johnson is nominated in NBCC's Autobiography category for her memoir "The Other Side." NBCC awards will be presented March 12 at the New School in New York.
"When you look at the other nominees, as well as those who have won these awards, the names are inspiring. They are the luminaries of our generation," Johnson said. "It's an honor to be in such great company and to be recognized in this way."
"The Other Side" (published by Tin House) offers frank insight into Johnson's near fatal relationship with an abusive former boyfriend and her recovery following its traumatic and terrifying climax. It is Johnson's second book. Her first work "Trespasses: A Memoir" was published in 2012 by University of Iowa Press.
In her role at UH's Mitchell Center, Johnson oversees its Interdisciplinary Art (IART) curriculum. She also works to foster relationships between the center, its programs and the campus community. Johnson also teaches IART courses including Art as Activism.
"It's exciting to be doing this work," Johnson said. "I work with the esteemed faculty in UH's arts programs to encourage collaboration and interdisciplinary discourse. Through these partnerships, we're able to spark university-wide conversations on what it means to be an artist today and what that will mean in the future."
Johnson was familiar with UH's creative landscape before joining the Mitchell Center. She earned her Ph.D. in literature from the University's acclaimed Creative Writing Program in 2008. Among those who guided her as she developed her literary voice were then-faculty members Mark Doty and Claudia Rankine. Johnson is particularly happy to be named a finalist this year as her one-time mentor Rankine made history as the first finalist in two NBCC categories.
"The faculty at UH mentored me in what it means to be a writer and what it means to engage the world," Johnson said. "Their guidance set me on a path to get me to where I am now."
Following the news of her NBCC nomination, Johnson learned that she also is a finalist for an Edgar Award. The Edgar Awards celebrate literary works focused on mystery and true crime. Johnson's book is among the nominees for "Best Fact Crime."
To learn more about Johnson, read this UH News feature story. For more details on the National Book Critics Circle Awards, visit the NBCC website. 
---