What better way to ring in a new year of opera than with a Houston premiere and a classic comedy? The University of Houston's Moores Opera Center delivers both when it opens its spring repertoire with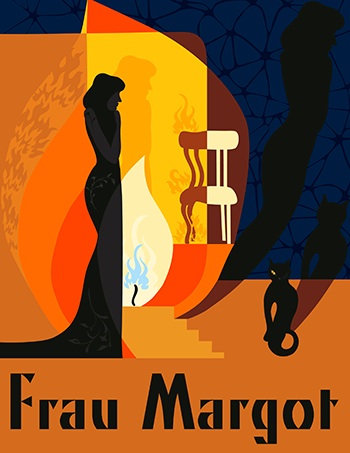 Thomas Pasatieri's "Frau Margot" and Gaetano Doinizetti's "The Elixir of Love."
Houston audiences will get a first look at "Frau Margot" as it makes its city debut and first performance since premiering in 2007. Opera fans also will be reintroduced to "The Elixir of Love" as it returns to UH after nearly 30 years.
"Frau Margot" and "The Elixir of Love" will be performed at UH's Moores Opera House (Entrance 16 off Cullen Boulevard). Tickets for both operas are $20 and $12 for students and seniors. They can be purchased by calling 713-743-3313 or by visiting the Moores online box office.
Performance dates and times are as follows:
"The Elixir of Love" (performed in Italian with English surtitles)  – 7:30 p.m., Jan. 29 and 31, Feb. 1 and 2
"Frau Margot" (performed in English with English surtitles) – 7:30 p.m., Jan. 30; 2 p.m., Feb. 1
Directed by Buck Ross, "Frau Margot" transports audiences to the late 1930s for a musical mystery tale set in Amsterdam. It follows the story of a composer's widow, who refuses to let her late husband's final opera be completed … unless he offers permission from beyond the grave.
"It's very much like an Alfred Hitchcock film," said Ross, director of the Moores Opera Center. "The music plays like a score from a classic mystery movie, and the story is taken from actual events."
 "Frau Margot" is loosely based on the death of Austrian composer Alban Berg, who died before completing his opera "Lulu." His widow had notes and sketches of that opera's last act and met with dozens of noted composers who were willing to finish the work. After "speaking" to her departed husband through séances, the answer was always a firm "No."
"The reason for this was because she discovered her husband had an affair toward the end of his life," Ross said. "This was her revenge."
Among the composers who sat through one of the séances was legend Leonard Bernstein. He relayed this story to librettist Frank Corsaro, who collaborated with Pasatieri on a fictionalized musical version (with added elements of intrigue). "Frau Margot" was commissioned by Fort Worth Opera (headed by UH alumnus Darren Keith Woods) in 2007. The upcoming UH production will be the opera's second production since its world premiere.
"Frau Margot" features Emily Louise Robinson and Lisa Borik alternating the role of the title character. Other rotating cast members include Nicole Woodward and Shani Cohen as Kara Sondstrom and Erik Larson and Austin Hoeltzel as Ted Steinert.
UH Moores School of Music faculty member Lynda McKnight directs "The Elixir of Love." This version transplants Donizetti's comic romance to a small Texas town. The popular comedy follows lovelorn Nemorino in his quest to win the wealthy Adina. When traveling medicine man Dr. Dulcamara arrives with a "love potion," Nemorino seizes the opportunity to obtain a possible prescription for romance.
Cast members include Sydney Anderson and Julie Thornton alternating as Adina and Benjamin Williams and Alex Scheuermann as Nemorino.
Raymond Harvey will conduct both "Frau Margot" and "The Elixir of Love." Harvey recently joined the Moores Opera Center as its music director and has contributed his talents to past performances including "The Tales of Hoffmann" and "The Consul."
The Moores Opera Center was founded in 1986. Each season, it delivers four productions. Among its Houston premieres are Nino Rota's "The Italian Straw Hat," Daron Hagen's "Amelia," Daniel Catán's "Il Postino," Robert Aldridge's "Elmer Gantry," Ricky Ian Gordon's "The Grapes of Wrath," Sergei Prokofiev's "The Love for Three Oranges," Carl Maria von Weber's "Der Freischütz," Samuel Barber's "Vanessa," Jules Massenet's "Chérubin," Gioachino Rossini's "Il viaggio a Reims," and Kurt Weill's "The Rise and Fall of the City of Mahagonny." Professional recordings include the center's productions of Dominick Argento's "Casanova's Homecoming" and a DVD release of Robert Nelson's "A Room With a View." For more details on the Moores Opera Center, visit http://www.music.uh.edu/opera/. 
For the past four years, the Moores Opera Center received honors from the National Opera Association (NOA). Recently, NOA awarded the center's production of "Cold Sassy Tree" second place in Division V and third place for its performances of "The Barber of Seville" and "The Italian Straw Hat." Its 2013 production of "Moscow, Cheryomushki" took first place Division V in the association's national competition. Its 2013 production of "Rigoletto" earned second place in Division IV. In 2012, the center received NOA awards for operas "Amelia" (first place – Division IV); "Der Rosenkavalier (second place – Division V). In 2011, "Il Postino" also earned NOA honors (first place – Division IV).
###
---