White sexual-minority men may be more empathic toward other minority groups compared to their heterosexual white peers. A new study from the University of Houston College of Education, University of Toronto and Arizona State University compared the attitudes of white heterosexual men to those of white sexual-minority men.
"Racial empathy is a crucial component of social justice," said Nathan Smith, co-author and associate professor in the college's Department of Psychological, Health, and Learning Sciences. "'Coming out' as a sexual minority may lead to added introspection that, in turn, can lead to increased empathy towards other minority groups."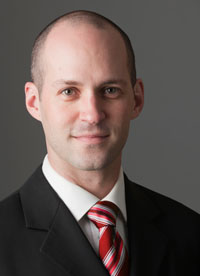 The research paper, "Translating Oppression: Understanding How Sexual Minority Status is Associated with White Men's Racial Attitudes," was published in the journal "Psychology of Men and Masculinity," a publication of the American Psychological Association. The study was led by Sela Kleiman in collaboration with Smith and Lisa Spanierman.
Sexual minority defines diverse sexual orientations, such as gay, bisexual, questioning or queer.
Study participants consisted of 97 white, heterosexual men, as well as 83 sexual minority, white men. They were recruited in Canada and responded to questionnaires on race, gender and sexual orientation. Researchers used the Color-Blind Racial Attitudes Scale, a 20-item questionnaire that assesses denial, distortion and minimization of race and racism.
"We found white male participants from sexual-minority groups had higher positive racial attitudes and empathy than white heterosexual men," Smith said. "Participants who had experienced discrimination because of their sexual orientation showed more racial empathy and positive racial attitudes."
The more participants experienced discrimination based on their sexual orientation, the more empathic they were to those who had been the targets of racism and discrimination, possibly because they were able to use their own experience of discrimination to empathize with others. That ability to have racial empathy translated into more positive racial attitudes. Smith says social justice efforts and diversity education can gain insight from the attitudes of sexual-minority men. 
"Examining these experiences has the potential to inform how psychologists work with white men," he said. "The experience of sexual-minority men can promote the development of white racial allies and, ultimately, enhance social equity."
For more information on Professor Nathan Smith, visit http://www.coe.uh.edu/directory/employee-profile/index.php?id=641
---