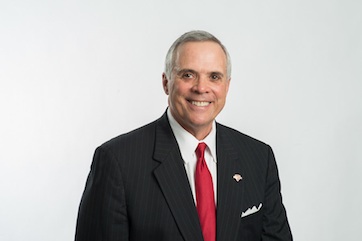 Few moments on a college campus can compare with the start of a new academic year. This is especially true at the University of Houston, where students are returning to classrooms with enthusiasm and purpose.
The energy on campus is certainly palpable, and the UH Honors College will celebrate this time of year during the annual Fall Convocation. The event brings the community together to reflect on the journeys that lie ahead for all Coogs and applaud their efforts.
The 2015 Fall Convocation takes place Sept. 3 in UH's Moores Opera House (Entrance 16 off Cullen Boulevard). A reception begins at 6 p.m., and the program starts at 7 p.m.
This year's keynote speaker is John T. McNabb, founding chair of the UH Board of Visitors. McNabb is the chairman of the board and CEO of Willbros Group, a specialty energy infrastructure contractor serving the oil, gas, refinery petrochemical and power industries. McNabb also serves as a senior advisor for Duff & Phelps Corporation and a shareholder and director of Continental Resources Inc. and Cypress Energy Partners. McNabb holds a Bachelor of Arts and Master of Business Administration from Duke University. He is an emeritus member of that institution's Board of Visitors at the Fuqua School of Business. McNabb served in the U.S. Air Force and earned the Distinguished Flying Cross for his service during the Vietnam War. Alongside his wife, Darlene, McNabb oversees The John & Darlene McNabb Charitable Foundation.
Other special Convocation guests include UH President Renu Khator and UH Senior Vice President for Academic Affairs and Provost Paula Myrick Short.
To RSVP for this event, call 713-743-9010 or visit the UH Fall Convocation website.
The Honors College at UH is a hub of excellence that serves the needs of gifted undergraduates in more than 100 fields of study and reflects the rich diversity of the University of Houston in its courses, faculty and students. The Honors College offers students the best of both worlds: the advantages of a small college together with the comprehensive resources and rich diversity of a large university. For more details on the Honors College and upcoming events, visit http://TheHonorsCollege.com.
---