Richard Evans, Professor Emeritus in the Department of Psychology, passed away April 20.  He was 92 years old. 
Evans' legacy at the University of Houston spanned more than 60 years, during which time he founded the University's social psychology program and developed strategies for young people to negotiate peer pressures and say no to alcohol, drugs and cigarettes. His work led him to be among the first researchers to secure grants from funding agencies such as the National Institutes of Health. He's also credited with coining the word that seemed to most aptly describe him:  "workaholic."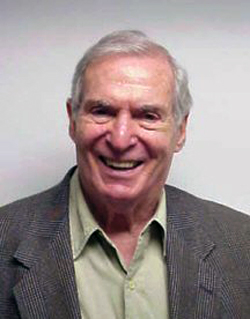 His interest in the psychology of humor brought his academic life into the mainstream. He wrote a video series and book featuring the likes of playwright Arthur Miller and comedians Joan Rivers and Buddy Hackett. But one of the most fulfilling experiences, he said, was creating a series of videotaped interviews with giants of the field, such as Carl Jung, B. F. Skinner and Erik Erikson. He enjoyed appearances on the Dick Cavett and Merv Griffin Shows as well as The Tonight Show with Johnny Carson to discuss psychology.
The video series is still used in universities around the world and shown on several PBS stations.
His numerous University awards include a Phi Kappa Phi Distinguished Scholar Award and the Esther Farfel Award, the highest distinction given to faculty.
In 2011, he was bestowed the title of Professor Emeritus. 
Evans was a World War II veteran, assigned to General George S. Patton's Third Army. He earned a Purple Heart after incurring an injury in the Battle of the Bulge. 
He was an avid fan of all Houston sports, most especially the UH Cougars.
Professor Evans was featured in the 2011 UH Magazine.  Read the article here.
---