Students from the University of Houston Gerald D. Hines College of Architecture Industrial Design program didn't take the Wilsonart Challenge sitting down. Instead, they jumped at the opportunity to create innovative, functional chairs that would stand apart from other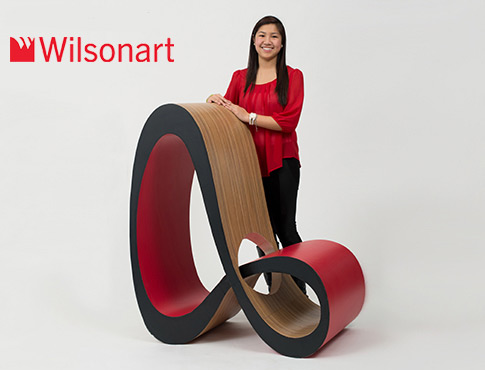 contemporary furniture designs.
For the past 10 years, decorative surfaces manufacturer Wilsonart has challenged students at different colleges to make the perfect chair using its patented laminate. For its 10th annual "Wilsonart Challenges…" Student Chair Design Competition, Wilsonart tapped into the talents at UH. The results included a variety of awe-inspiring seating spaces featured in the first Wilsonart Cre8tivity Tour. The tour has taken these student-designed chairs across the country. On Sept. 18, they will make their Houston debut at La Colombe d'Or (3410 Montrose Blvd.). Chairs will be on view starting at 1 p.m., and Houstonians will have an opportunity to meet their designers including the competition's first place winner Jenny Trieu.
Trieu's "Infinite" chair merges the looped infinity symbol with a sleek seating design. The experience of creating this bold furniture piece has been beneficial on several levels. Among those was the opportunity of meeting professional designers and furniture industry leaders at the International Contemporary Furniture Fair in New York. Trieu was among several students who presented their work at this leading industry event.
"I am super thankful for this opportunity," said Trieu, a junior industrial design major. "It provided me with a great experience to create something new and to have my work shown across the country. Now, I'm able to share it with my friends and family."
Trieu and her Industrial Design classmates (guided by professor Jeff Feng) were provided with specific rules when constructing the chairs. Among these was adhering to mid-20th century modernism and space. Chairs also have to support up to 400 pounds.
"The shape that I came up with was effective because it holds in space, and the materials I used represented mid-century modernism," Trieu said.
Trieu's first place "Infinite" chair will be complemented by six runners up and seven additional student chairs.
Before arriving in Houston, the chairs visited Chicago, Philadelphia, Los Angeles, Seattle, San Francisco, Dallas, Denver and Atlanta.
"We are excited to host the Cre8tivity Tour as a way to foster conversations about innovation within the architecture and design community," said Alison DeMartino, marketing director at Wilsonart. "The hope is that this roadshow provides a platform for uncovering new ideas and discovering fresh perspectives in a fun and interactive way."
Houston is the last stop on the Cre8tivity Tour and will feature guest speaker design historian and materials expert Grace Jeffers. She will lead a discussion starting at 5 p.m. in the Colombe d'Or gallery.
UH's Industrial Design program grooms aspiring designers through a calculated curriculum program. First-year students learn design fundamentals in the classroom and the studio. During their second year, students familiarize themselves with industrial design history, materials, manufacturing methods and visual communications skills. Third-year students conduct research and apply their findings to design projects. By their fourth year in the program, students are prepared for careers through curriculum addressing diverse design issues, design ethics, business practices and strategies.
A graduate program in industrial design recently was introduced in 2013. The two-year, 36-hour program  advocates a new form of design knowledge merged from theory and practice, and forged with connections to the medical, energy, aerospace, computer and entertainment industries. Students can earn a Master of Science and/or an Entrepreneurship Certificate (through a partnership between the College of Architecture and C.T. Bauer College of Business).
---