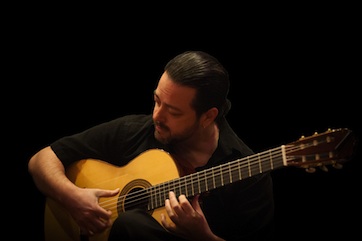 The University of Houston's annual Classical Minds Institute attracts six-string masters from across the globe. This year, the event's organizers looked no further than the Lone Star State for some of the finest classical guitarists in the world.
Now in its 11th year, Classical Minds delivers concerts, classes and a student competition as part of UH's Immanuel and Helen Olshan Texas Music Festival (TMF). The 2014 Classical Minds events will be conducted June 10 – 14 at UH. The event will feature Texas-based artists and educators Enric Madriguera, Jeremías García, Jonathan Dotson, Mark Anthony Cruz, Adam Holzman, Marc Garvin, Issac Bustos, Jay Kacherski, Chad Ibison, Rachel Loss-Cutler-Hull and Classical Minds founder Valerie Hartzell.
"This is the 'Texas edition' of Classical Minds," said Hartzell, who founded the event in 2003. "Audiences will hear a variety of music. All of these artists bring something different to the stage."
Although Texas artists dominate the 2014 Classical Minds lineup, the sounds of Spain will have a special place within this year's performances. Students can participate in a Flamenco workshop on June 10 (led by Garcia) and a special performance of Flamenco Fire by Jeremías García with guest artists from Solero Flamenco on June 13.
Other highlights include a recital from veteran Classical Minds instructors Jonathan Dotson and Mark Anthony Cruz (performing works from his extensive catalog) at 7:30 p.m., June 10. Also, Houston guitarists Marc Garvin and Guillermo Serpas join forces with Dallas-based six-string slinger Rachel Loss-Cutler-Hull at 11:30 a.m., June 12. At 7:30 p.m. on June 14, acclaimed artist and University of Texas at Austin professor Adam Holzman teams up with his pupil Chad Ibison for a rare teacher-student recital. All of these performances will be in UH's Organ Recital Hall.
This year's event also will feature the first Classical Minds Exposition at 4:15 p.m., June 14 in room 108 of the Moores School of Music. During the expo, students and artists can view and sample new instruments from a variety of vendors. Also, Classical Minds faculty members will deliver demonstrations with these guitars.
Just as audiences benefit from five days of eclectic performances, students gain from workshops led by the state's top classical guitar teachers. Students also have the opportunity to compete for cash prizes in Classical Minds competitions. Competitions are divided into two divisions: Junior (ages 9 – 13) and High School (ages 14 – 19). The public can attend the contest's finals at 2 p.m., June 14.
 "Classical Minds offers students a chance to learn from some of the finest artists in both Texas and the world," Hartzell said. "It also is an opportunity for them to sample the classical guitar programs at various institutions. This year, we're hosting teachers from major universities. Students can decide if they want to continue their studies with these artists at their respective universities."
UH does not have a classical guitar program, but Classical Minds holds a special place as part of the University's Texas Music Festival. In its first year, the institute hosted 19 students. Now, more than 75 students participate in its classes and competitions.
All Classical Minds concerts will be performed in either UH's Organ or Dudley Recital Halls (Entrance 16 off Cullen Boulevard). A complete schedule of Classical Minds event can be found here.
Before the event kicks off in June, Hartzell and Classical Minds staff member Andrew Smith will perform a benefit concert at 7:30 p.m., May 31 in UH's Organ Recital Hall. Tickets range from $5 - $15, and proceeds benefit scholarships and Classical Minds competition prizes.
Classical Minds is among the many institutes comprising the Texas Music Festival. TMF annually hosts students from various musical disciplines and helps them develop their talents under the watchful eyes of master musicians. The festival also spotlights both student and professional musicians during concerts at UH and throughout the Houston area. For more details about TMF, visit its website.
---