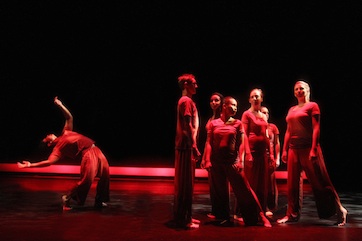 The University of Houston School of Theatre & Dance presents Ensemble Dance Works, a showcase of works by UH's award-winning dance faculty and other Houston-based professional  guest choreographers. The works will be performed by the pre-professional company, the UH Dance Ensemble. This year's performance displays premiere and restaged works by contemporary dance choreographers.
Ensemble Dance Works will be performed in UH's Lyndall Finley Wortham Theatre (Entrance 16 off Cullen Boulevard). Show times and dates are as follows:
7:30 p.m., March 28 and 29
1:30 p.m., March 30
Tickets are $20 and $12 for seniors and students. They can be purchased at the Wortham Box Office by calling 713-743-2929 or through the UH School of Theatre & Dance ticketing site.
 Teresa Chapman premieres a solo titled "Unfolding" inspired by various concepts of folding and unfolding. Chapman explores a range of dynamics while showcasing student dancer Brittany Bass' unique performance style and sense of physicality. The music, "Ascent" by Hildur Gudnadottir provides a captivating soundscape for a dance that hints at understated emotions and delicate complexities.
Karen Stokes restages "Just Us," a work originally choreographed for the UH Dance Ensemble in 2007.  "Just Us," a large group piece, combines Stokes' signature quirky gestures with levity, vocal sound effects and joyful hopscotch-inspired dancing to create a community of playful support and trust. Gentle walks and subtle hip sways are the backdrop for Stokes' generous partnering and fast-paced maneuvers. Set to the wonderful music of Stephen Montague, squeaks, coughs and sputters are layered over stomps and claps adding a live rhythmic sound component.
Melissa Noble, first-year professor at the University of Houston, premieres "Life and Works," a modern dance based on the life of Hildegard von Bingen (1098-1179), a remarkable woman who produced major works of theology, healing and natural history that came from her visionary experiences. Using portions of the music written by von Bingen, Noble explores ideas of faith, vision, choice and sacrifice. 
In "They Come To Dance," Jackie Nalett uses the images and movement behaviors of pink flamingoes to explore a luscious, bird-inspired movement vocabulary. Set to music by legendary dance musicians Peter Jones and Terrence Karn, this piece asks the viewer to imagine a place where flamingoes gather together to dance.
Toni Valle premieres "Lollygag, Lickety-split, and Wabbit," which translates into "slow, fast, and very tired." The piece is a comedic take on coping with the never-ending burden of housework and the insanity of small children.  Set to 1950 children's audio tapes mixed with stomping beats and strange sound effects by Ruckus Roboticus', the soundscape is the perfect accompaniment to blissful chaos in the house where surrender is often the only way to win.
Becky Valls' dance, "Drift," has a sense of floating through space as well as emotionally drifting along. Repetition of movement phrases and patterns in the dance is also reflected in the music of Max Richter and Philip Glass.  Slow meditative movement phrasing performed by the dancers with an inner focus, begins and ends the piece.
 Jennifer Wood premieres "The Heavy," a work for a large ensemble of 12 dancers. With sustained high energy dancing to Fescennine's "A History of Kem Cho," the piece has a circular structure, ending where it started. Movements are derived from two sources:  a phrase provided by the choreographer and a set of poses created by the dancers themselves. The poses were modified by adding layer on layer of movements with the intent of destabilizing the performer, thereby creating a riskier performance.
---