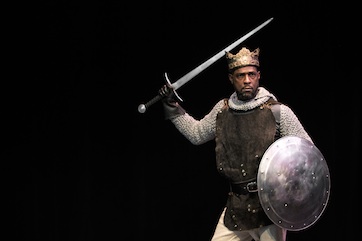 In 1975, then-University of Houston School of Theatre & Dance director Sidney Berger envisioned thousands of Houstonians enjoying outdoor performances of Shakespeare's works. Fast forward 40 years, and Berger's dream is one of Houston's most anticipated summer traditions.
Each year, the Houston Shakespeare Festival (produced by the University of Houston's School of Theatre & Dance) delivers the Bard's best to audiences at Miller Outdoor Theatre. This year, the event celebrates its 40th anniversary. To commemorate four decades of free performances, Houston Mayor Annise Parker has proclaimed Aug. 1 as Houston Shakespeare Festival Day in the city. On this day, the festival will kick off its summer run with "The Two Gentlemen of Verona" at  8:30 p.m. in Miller Outdoor Theatre.
The official proclamation reads "The City of Houston  commends the directors, organizers and actors of the Houston Shakespeare Festival for contributing to Houston's creative landscape and extends best wishes for a memorable 40th anniversary celebration."
The 2014 Houston Shakespeare Festival runs through Aug. 10. All performances begin at 8:30 p.m. Dates are as follows:
"The Two Gentlemen of Verona" – Aug. 1, 3, 5, 7, 9
"Henry IV, 1" – Aug. 2, 6, 8, 10
The Houston Shakespeare Festival is free, but tickets are required for covered seats. Tickets are available between 10:30 a.m. and 1 p.m. the day of the performance. For more details, visit the Miller Outdoor Theatre website.
"The Houston Shakespeare Festival continues to draw Houston audiences partially because of the appeal of the material, but also because it has become a Houston tradition," said Jim Johnson, the festival's executive director and director of UH's School of Theatre & Dance. "It's simply not summer in Houston if you don't see HSF at Miller!"
This year's event features guest artists Mirron Willis and Brendon Fox. Veteran stage and screen actor Willis plays the title role in "Henry IV, 1" and the Duke in "The Two Gentlemen of Verona." Director Fox directs "The Two Gentlemen of Verona."
In addition to performances, the festival also hosts a conservatory that trains high school actors. Members of the HSF acting company and stage crew work with students for three weeks. They are trained in acting, stage combat, movement, voice for the stage and text analysis. This year, conservatory students will perform on stage with the professional actors.
UH's School of Theatre & Dance launched the Houston Shakespeare Festival in 1975 under Berger's guidance. Berger passed away in 2013, and that year's festival was dedicated to his memory.
Stage stars who have contributed their talents to the event include Dan O'Herlihy (who starred in Orson Welles's film version of "Macbeth") taking on the title role in "King Lear" and regional star Ken Ruta playing Prospero in "The Tempest." Recent festivals have featured guest artists such as Seth Gilliam (of HBO's "Oz" and "The Wire"); alumna Cindy Pickett ("Ferris Bueller's Day Off"); Mark Metcalf ("Animal House"); Obie Award-winning actor Brandon J. Dirden (most recently seen as Martin Luther King Jr. in "All The Way") and Broadway veteran Crystal Dickinson.
Visit the Houston Shakespeare Festival website for more details on performances and the event's history.
---