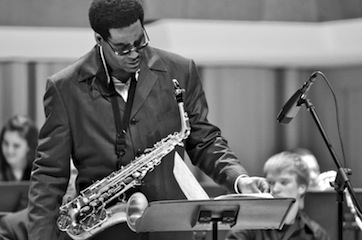 Sax man Brad Leali has played with a who's who of musicians. The veteran jazz player served as musical director for Harry Connick Jr.'s band, as well as the Count Basie Orchestra. He's also performed alongside disparate creative spirits such as Freddie Hubbard, Fantasia, Kid Rock, George Duke and Robert Downey Jr. – to name a few. In February, Leali heads to Houston to add a few Cougars to his list of musical collaborators.
Leali is the featured artist at the 16th annual University of Houston Moores Jazz Festival. Hosted by the University's Moores School of Music, the event will pair the UH Jazz Orchestra with Leali and feature performances from a collection of the state's top players. Students from Houston area middle schools and high schools participate in clinics led by Leali and other pros. All festival events will be conducted in the Moores Opera House (entrance 16 off of Cullen Boulevard). Tickets are $17 and $12 and can be purchased by calling 713-743-3313. For more details, visit the MSM website.
Performance times and dates are as follows:
Feb. 28, 7:30 p.m. – UH Jazz Ensemble featuring Woody Witt (saxophone), Bill Cunliffe (piano), Richard DeRosa (percussion), Lynn Seaton (double bass), Noe Marmolejo (director).
7:30 p.m., March 1 – UH Jazz Orchestra with special guest Leali. Concertgoers can meet the artist during a reception in the Moores Opera House lobby at 6:45 p.m.
Noon, Feb. 28 and March 1 – Free clinic and performance featuring Leali and student musicians.
Leali is a professor at the University of North Texas (his alma mater). As an undergraduate student, Leali was a member of the University of North Texas' acclaimed One O'Clock Lab Band. He later earned his master's degree from Rutgers University. After earning his graduate degree he took the reins of Texas Tech University's jazz program. From 1989 -1994, Leali performed with the Harry Connick Jr. Orchestra. In 1995, he joined the Count Basie Orchestra. Leali also has shared the stage with numerous superstars and performed at President Barack Obama's inauguration backing Bruce Springsteen, John Legend, Mary J. Blige and Herbie Hancock on "We Are One." To learn more about Leali, visit his website.
Since 1988, UH's Moores School of Music has invited top jazz stars to campus. In 1999, the Moores Jazz Festival officially kicked off with performances from the Count Basie Orchestra and saxophonist Michael Brecker. Each year, the festival brings seasoned pros to campus to educate young musicians and perform for Houstonians. Previous guests have included saxophonist Bill Evans, trombonist Andy Martin and trumpeter Randy Brecker.  For more details on the festival and UH's jazz studies program, visit http://uhjazz.com/.
---