Scholar Paul Cantor is known for his perceptive observations on classic literature and popular culture. The University of Virginia professor of English has written books and articles on topics ranging from Shakespeare to "The Simpsons." Soon, he will bring his unique insights to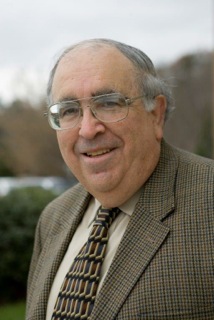 the University of Houston as the 2014 Ross Lence Master Teacher.
Each spring, UH's Honors College honors the legacy of political science professor Ross M. Lence by bringing a noted teacher and scholar to campus.
"Paul Cantor is an ideal choice for the Lence Master Teacher," said Honors College dean William Monroe.  "Paul likes to converse and provoke, as Ross did."
On Feb. 20 and 21, Cantor will visit UH for a series of workshops, seminars and lectures.  The schedule of his activities is as follows:
5:30-8:00 p.m., Feb. 20 – Lence Master Teacher Seminar "The Quarrel Between Philosophy and Poetry in Plato's 'Symposium'": Cantor will explore comedy and tragedy in the Platonic dialogue, followed by Q and A and discussion.
Noon-1:00 p.m., Feb. 21 – Cantor will deliver a public lecture on "Hamlet" in Cemo Hall 100. The event is free and open to the community.
6:30 p.m., Feb. 21 – "The Economics of the Apocalypse: Flying Saucers, Alien Invasions and the Walking Dead in American Pop Culture." The lecture draws from Cantor's book "The Invisible Hand in Popular Culture: Liberty vs. Authority in American Film and TV" (2012).
For details on any of these events, contact Robert Cremins at rpcremins@uh.edu.
Cantor is the Clifton Waller Barrett Professor of English at the University of Virginia. He has written extensively on Shakespeare and addressed the cultural significance of iconic television shows ("Gilligan's Island," "Star Trek") in his book "Gilligan Unbound: Pop Culture in the Age of Globalization" (2003). Other books by Cantor include "Literature and the Economics of Liberty" (2009), "Shakespeare: Hamlet" (2004), and "Creature and Creator" (1984). For more details on Cantor, visit his faculty page on the University of Virginia's website.
The namesake of the Lence Master Teacher Residency program inspired both faculty and students at UH from 1971 – 2006. Ross Lence was a John and Rebecca Moores Scholar and held the Ross M. Lence Distinguished Teaching Chair. Visit the Ross M. Lence Master Teacher website for more details and to learn more about past residencies. 
"Ross had a transformative effect on people," Monroe said. "He instilled in all of us an eagerness to work at our highest level."
The Honors College at UH is a hub of excellence that serves the needs of gifted undergraduates in more than 100 fields of study and reflects the rich diversity of the University of Houston in its courses, faculty and students. For over 50 years, the Honors College has offered students the best of both worlds: the advantages of a small college together with the comprehensive resources and rich diversity of a large university. For more information about the Honors College, visit http://TheHonorsCollege.com.
---