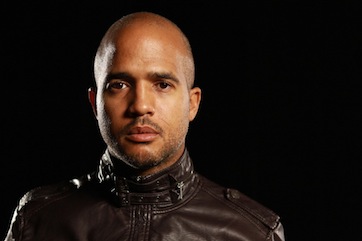 Noted composer and musician Daniel Bernard Roumain (aka DBR) is no stranger to stretching his musical boundaries. From Lady Gaga to the Spirit of Houston Cougar Marching Band, he's embarked on a range of creative collaborations. His next musical partnership is with the University of Houston's AURA Contemporary Ensemble.
Roumain will join AURA for the concert "Range of Motion." The concert kicks off at 7:30 p.m., April 14 in UH's Moores Opera Center (Entrance 16 off Cullen Boulevard). Most of the works performed during "Range of Motion" share a theme focused around movement.
Roumain and AURA will collaborate on three of his works: "Fast Black Dance Machine," "Cathedral" and "Hip-Hop Studies and Etudes."
"DBR has a terrific energy," said Rob Smith, director of AURA. "He's very exciting, and the students are looking forward to working with him and watching him perform."
For the performance of "Hip-Hop Studies and Etudes" – a collection of short musical vignettes –
 AURA students have taken creative liberties and developed unique arrangements.
 "Students had fun with these. They arranged these pieces for their respective instruments with added percussion," Smith said. "One student's arrangement is using a drum kit and another is using a marimba. A cellist is using a looping pedal, so she can play over herself. And a flautist will be playing a kick bass drum while playing the flute."
The complete list of "Range of Motion" works is as follows:
"Fast Black Dance Machine" by Daniel Bernard Roumain (2002)
"Cathedral" by Daniel Bernard Roumain (2008)
"Hip-Hop Studies and Etudes" by Daniel Bernard Roumain (2006)
"Gran Turismo"  by Andrew Norman (2004)
"EP" by Rob Smith (2013)
"Subluxation #dislocatedshoulder" by Martin Quiroga – (2014) – World Premiere
"Dance of the White Lotus Under the Silver Moon" by Stella Sung (1998)
"Range of Motion" marks the second collaboration between Roumain and the Moores School of Music. Last year, the composer teamed with UH's Spirit of Houston Marching Band to premiere "En Masse" (commissioned by UH's Cynthia Woods Mitchell Center for the Arts) at Discovery Green.
Roumain has partnered with the likes of Lady Gaga, Philip Glass, Cassandra Wilson, Savion Glover and others. His commissioned works have been performed by leading orchestras and ensembles around the world including the American Composers Orchestra, Boston Pops Orchestra, Brooklyn Philharmonic and Vancouver Symphony. Roumain's recorded works include "Woodbox Beats & Balladry" (2010), "etudes4violin@electronix" (2007) and "Pulsing" (2006). For a complete discography and to learn more about DBR, visit his website.
Other concert highlights will include UH faculty member Kristin Yon and 19 of her student violinists performing to the driving number "Gran Turismo" (based on the video game of the same title). Also, a new work from Martin Quiroga, recent graduate and undergraduate winner of the Sarofim Composition Awards, will be premiered.
Tickets for "Range of Motion" are $12 and $7 for faculty, staff, alumni and seniors. They are available through the Moores box office site or by calling 713-743-3313.
AURA is dedicated to the performance of contemporary chamber music, with an emphasis on works that represent the trends and styles of the last two decades. Under Smith's direction, the ensemble performs a wide variety of American and international composers' works. Noted artists such as Samuel Adler, Richard Rodney Bennett, Stephen Montague, Joan Tower and Dan Welcher have visited campus to hear AURA's interpretations of their compositions. The ensemble is also dedicated to collaboration with dance and has presented many concerts with the UH Dance Ensemble and the Sandra Organ Dance Company. In April, AURA will team with noted composer/musician Daniel Bernard Roumain for "Range of Motion."
The Moores School of Music is one of the premier music schools in America. Offering bachelor's, master's and doctoral degrees, it serves approximately 600 students annually. Areas of study include composition, conducting, performance, theory and musicology. Its faculty consists of internationally recognized performers, composers and scholars. Among its ensembles are the Moores School Symphony Orchestra, Moores Jazz Ensemble, Moores Opera Center, Concert Chorale, Concert Women's Chorus, Spirit of Houston Cougar Marching Band, Wind Ensemble and Percussion Ensemble. A majority of the school's concerts are performed in the 800-seat Moores Opera House. For more details on the Moores School of Music, visit http://www.music.uh.edu/.
---