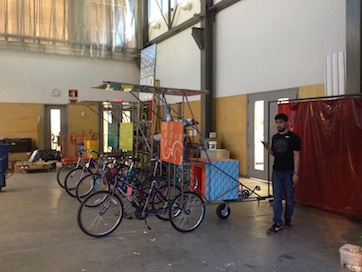 It's not a Transformer, but a recent project from University of Houston art and architecture students is not too dissimilar from the metallic super heroes.
In the "Transformers" movies, common vehicles take the form of robots aimed at protecting the earth. UH's Re/Cycle Hub is comprised of four adult-sized tricycles that will transform into an activity center promoting habits that can help save our planet.
Re/Cycle Hub paired undergraduate students from UH's Gerald D. Hines College of Architecture (led by professor Patrick Peters) and undergraduate graphic design students from the University's School of Art (led by professor Cheryl Beckett). Student teams worked to construct and design trikes with infographics and interactive demonstrations. Trikes are made from recycled bicycles and have specific themes: sound, light, wind and art making. A canopy made from a recycled billboard will cover the Hub. Students can ride the trikes independently then connect them to form the Re/Cycle Hub.
The public can visit Re/Cycle Hub during this week's CounterCurrent Festival. It will be on view during festival events on Wednesday, April 9 at 6:30 p.m., at Aurora Picture Show, and from 11 am-5 p.m., April 12 at the Earth Day Houston festival at Discovery Green. 
"The intention of this project is to build enthusiasm for biking as recreation and as a sustainable mode of transportation," Peters said. "We're also using the trikes as vehicles to educate the public on green living."
Architecture student Sheridan Staats is on the team that created the Hub's Listening Station. It will include a marimba made from PVC pipes and pedal-powered rain stick.
"It will show people how to avoid noise pollution with the help of natural sounds," she said. "Our trike also demonstrates how to create natural sounds using recycled materials."
Another Hub component is the Remake Recreate Station, which allows visitors to create their own posters through a pedal-powered art maker. Using a poster design with the words "Remake, Recreate, Reuse, Recycle," a person can create his/her own design.
"When people get on it and pedal, it creates spin art over these messages," said graphic design student John Mark Reamer. "The machine has sprayers and rollers to paint these posters. It's about having fun, but hopefully, people will take these posters and be reminded about sustainable living."
Complementing Reamer and Staat's stations will be the Light station (a giant spinning kaleidoscope) and Cooling Station (creating a breeze).
Just as the public will benefit from Re/Cycle Hub's educational activities, students gain valuable experience by collaborating with peers from other disciplines.
 "It's been fun," Staats said. "The graphic communications students would throw the architecture students some ideas. We would have to figure out how to make them work. It's been very educational. I always took for granted the artistic elements to a project, but this project has opened my eyes."
Complementing Re/Cycle Hub is Story Cycle, a riding scavenger hunt and storytelling activity supporting Houston's bicycling community. Story Cycle is created by Jim DeVega, a graduate student in graphic design.
Re/Cycle Hub complements previous collaborations between architecture and graphic communications students. Recent projects have included ReFRAME x FRAME, a micro-pavilion built from repurposed cubicle frames for Hermann Park; Dis(solve): Signage and amenities that looked at upcycling and dissolution for Houston's Japhet Creek; "WorkingShop," an exhibition detailing the Third Ward; and a solar-powered classroom at the Park at Palm Center. Research professor Carroll Parrott Blue also worked with Peters and Beckett on "WorkingShop."
Re/Cycle Hub is supported by a UH Mitchell Center for the Arts Innovation Grant. For more details on the project, visit the CounterCurrent Festival's website.
---