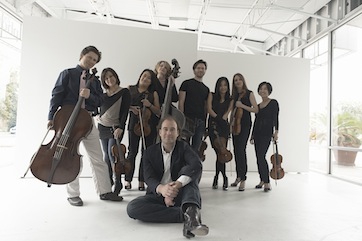 The Battle of Nations (or Battle of Leipzig) marked the beginning of the end for Napoleon's global conquest. The conflict pitted the French emperor's military (including troops from Poland, Italy and numerous German states) against a coalition consisting of armies from Russia, Prussia, Austria and Sweden. More than 500,000 men engaged in combat during this massive fight. In the end, Napoleon's forces were soundly defeated on Oct. 18, 1813.
Napoleon had controlled the city of Leipzig (located within the state of Saxony, Germany) for seven years prior to this battle. In that time, the mood in the city changed from optimism (based on Napoleon's promises of a better future) to discontent (as his wars of conquest raged on). Such emotions were reflected in the music performed in the city's famed Gewandhaus concert hall.
A collection of Houston's finest musicians and historians will commemorate both the battle and the musical legacy of this period during "Napoleon and the Battle of Nations." The event will begin with a symposium conducted at the University of Houston and culminate with a concert recreating the era's music in Houston's Wortham Center. Performers include Mercury – the Orchestra Redefined under the direction of Antoine Plante and the award winning UH Moores Concert Chorale under the direction of Betsy Cook Weber. Mercury musicians will perform with replicas of instruments used during this era (late 18th century, early 19th century). Jeffrey Sposato, associate professor of musicology at UH's Moores School of Music, is serving as the music historian for the event, which is based on the research he conducted for his forthcoming book, "Leipzig After Bach: Church and Concert Life in a German City, 1750-1850."
Times and dates are as follows:
Symposium - 4 p.m., Nov. 21 in UH's Dudley Recital Hall (Entrance 16 off Cullen Boulevard): A panel of experts will discuss the Battle of Nations from a variety of perspectives. Panelists include UH professors Sposato, Bailey Stone (history) and Hildegard Glass (German), and Leipzig historian Anselm Hartinger. A short concert preview, featuring the UH Moores Concert Chorale, will follow the discussion. This event is free to the public.
"Battle of Nations" Concert featuring Mercury and Moores Concert Chorale – 8 p.m., Nov. 23 at the Wortham Center (500 Texas Ave.): Tickets are $25 and $65 and can be purchased from Mercury by calling 713-533-0080 or online at mercuryhouston.org. The works are separated into two themes: Part I "Celebrating Napoleon and the New Kingdom" and Part II "Leipzig at War."

Part I: Beethoven's "Coriolan Overture," Hasse's "Te Deum in D Major," an excerpt from Paer's opera "Leonora," Mozart's "Diving Being, to You Be Praise and Honor"
Part II: Excerpts from Haydn's "Mass in Time of War," Weber's "The Lord Creates According to His Will," Haydn's "The Vain Cares of Man"
"Concert audiences should expect music that is very stylistically diverse yet very dramatic," Sposato said. "It will have a lot of punch to it. It's all very exciting music. Performances like this do not happen very often. That's because we're going to recreate the entire style of a concert from the early nineteenth century, which is very different from what we normally experience today."
The musical selections are a combination of classical music staples and works that are infrequently performed, Sposato added. The Weber cantata that will be performed (using its original 1813 text) is almost completely unknown in the U.S. and will serve as one of the concert's focal points.
"This is a very rare performance," Sposato said. "It's not often that one concert features so many Houston premieres if not U.S. premieres. Many of the works and texts we're using faded from public concerts and have not been heard in many decades."
 Sposato assembled 19th-century editions of the concert's music, and one of his students transcribed Paer's opera quartet directly from an original manuscript.
The "Napoleon and the Battle of Nations" events are sponsored by the Houston Saengerbund, the Houston Arts Alliance, and the University of Houston's Innovations Grant Program of the Cynthia Woods Mitchell Center for the Arts (which is funded in part by the Houston Endowment, Inc.), the El Paso Corporation Lecture Series of the Center for Public History and the Moores School of Music.
To learn more about Mercury, visit its website at www.mercuryhouston.org. For details on UH's Moores Concert Chorale, visit www.uhchoirs.org.
About the University of Houston
The University of Houston is a Carnegie-designated Tier One public research university recognized by The Princeton Review as one of the nation's best colleges for undergraduate education. UH serves the globally competitive Houston and Gulf Coast region by providing world-class faculty, experiential learning and strategic industry partnerships. Located in the nation's fourth-largest city, UH serves more than 39,500 students in the most ethnically and culturally diverse region in the country. For more information about UH, visit the university's newsroom at http://www.uh.edu/news-events/.
###
---